| | |
| --- | --- |
| Newsticker | |
2016-01-27 | Newsticker
All language versions of the V12 Portfolio overview are now available
We have amended our portfolio overview. It now includes all the new gateways, the IP112 and the analogue IP29 adapter. The innovaphone V12 Portfolio overview gives you a quick overview of the innovaphone solution and the possible combinations of our products.
2015-12-17 | Newsticker
Successful innovaphone 2015 Dialogues!
We thank all our partners and distributors who once again contributed to exciting and informative Dialogues. This year our tour took us through ten European cities in seven countries with more than 550 participants and was a great success again!
The main component of the 2015 Dialogues was the presentation of the V12 highlights for our partners.
2015-12-16 | Newsticker
End of life of the VoIP gateways P3010, IP1060, IP0010, IP810, IP800, IP305, IP302 and IP28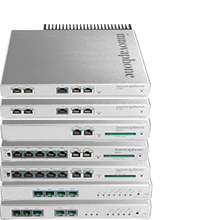 A new gateway range will be launched with Version 12. The following VoIP gateways will be discontinued, but they can be ordered as usual until January 15, 2016. We will still take orders from January 15, 2016, but only while supplies last.
IP3010 (art. no. 01-03010-001)
IP1060 (art. no. 01-01060-001)
IP0010 (art. no. 01-00010-003)
IP810 (art. no. 01-00810-001)
IP800 (art. no. 01-00800-016)
IP305 (art. no. 01-00305-001)
IP302 (art. no. 01-00302-001)
IP28 (art. no. 01-00028-001)
IP28 Combi Pack (art. no. 88-00010-024)
2015-12-11 | Newsticker
Coming soon: New version of the innovaphone PBX!
The new software version V12 of the innovaphone PBX will soon be released and stands under the motto "New devices. New services. More Security."
New Devices:
New Services:
Video conferences
WebRTC with Audio, Video, and Application Sharing
myPBX Toolbox, including "Call me Button"
More Security:
More security for All IP and Anywhere Workplace scenarios
innovaphone Session Border Controller
innovaphone Reverse Proxy
Learn more about it in our new V12 Highlights brochure.
2015-11-19 | Newsticker
Everything at a glance – the innovaphone V11 Portfolio overview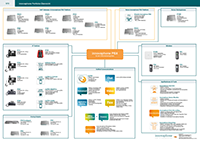 The entire innovaphone product range can now be seen in one single document: the V11 Portfolio Overview. It gives you a quick overview of the innovaphone solution and possible combinations with the innovaphone products.
You can download the innovaphone V11 Portfolio Overview of the portfolio here. This PDF file has been created in DIN A1 size so that you can print it out yourself or have it printed. When you look at the V11 portfolio overview, we will be curious to see whether you find something new that you didn't know about before.
2015-09-23 | Newsticker
Now available: the new myPBX mobile flyer
myPBX mobile is the innovaphone solution for all mobile devices myPBX mobile allows you to integrate mobile devices in the innovaphone PBX e.g. iPhone, Windows phone, etc. myPBX mobile is a combination of innovaphone Mobility and the innovaphone Unified Communications client myPBX.

Read more about myPBX mobile here in our flyer.
2015-08-20 | Newsticker
IP1202 now also with 4 channels!
The IP1202 is an IP DECT gateway that extends the innovaphone PBX to cover DECT compatible subscribers. New: a much less expensive version is now available with 4 channels. The 4 channel version has the order number: 50-01202-002 and is expected to be available from October. Other than the limited channels, the IP1202/4 does not have any other limitations and is extremely well-priced at RRP 470.00€.
We are looking forward to your orders!
2015-08-12 | Newsticker
innovaphone at the 2015 World Rowing Cup II
This year's World Rowing Masters Regatta took place at Lago di Varese in the North of Italy from 18 – 21 June 2015. The athletes had to finish a 2 km route with the sun beating down.
The innovaphone solution ensured communication between staff, management and participants as well as the safety of the entire event site. We are very happy to accompany this important international event for the third time in a row.
Click here to read the case study about the World Rowing Masters Regatta 2013.
2015-08-04 | Newsticker
New flyer: Highlights of the innovaphone PBX
The innovaphone PBX is an appealing system with its wide range of functionalities, hardware platforms, end devices and software solutions, which can be customised on a modular basis. Thus, it is extremely versatile and blends elegantly into any individual communication solution. The highlights of the innovaphone PBX are rated differently for each situation. The main points are clearly presented in a one-page flyer.
In the download area you will find the relevant PDF file.
2015-07-27 | Newsticker
funkschau readers' choice 2015: give innovaphone your vote!
Once again this year, the German specialist magazine funkschau is searching for the best ICT product of the year 2015. funkschau is the specialist magazine in Germany spanning the industries of voice, wireless, system integrators, carriers and providers as well as measurement technology and the medium for professional communication technology.
We are represented in three categories at the funkschau readers choice this year. The voting is in German, but it would be fantastic if you could also support us. Just click here and we will guide you through the German voting labyrinth.
Many thanks in advance. We are hoping for lots of votes!
2015-07-14 | Newsticker
innovaphone myPBX for Android
Turn your smartphone into an innovaphone device with the myPBX for Android app!
Download it here from the Google play store easily and free of charge. The app requires an innovaphone PBX and one myPBX license per client.
The combination of smartphone and myPBX app allows flexibility in all directions with the full functionality of an extension on the innovaphone IP PBX.
Find more information as well in our new myPBX for Android Flyer!
2015-07-10 | Newsticker
Application Sharing Flyer is now available
Working together has never been more efficient, easier or faster than it is now when using innovaphone Application Sharing. No annoying installation of plugins, no need to send emails with URLs back and forth, no administrative overhead needed before starting.

Learn more about it in our new Application Sharing Flyer, which can be found here for download.
2015-06-30 | Newsticker
All IP Flyer available now!
The new innovaphone All IP Flyer is now available in German, English, French, Italian, Spanish, Dutch and Polish. Find out why it makes sense to switch to All IP. Read the PDF file attached below or access your language version in our Downlad area on the website.
German | English | French | Italian | Spanish | Dutch | Polish
2015-06-25 | Newsticker
Training materials now available in the innovaphone wiki!
| | |
| --- | --- |
| | The teaching material from the basic and advanced training courses is now available in the innovaphone wiki. Here you can gain an insight into the contents of the innovaphone basic and advanced training courses or brush up on your skills. You can find the content either here or by clicking on the Wiki heading in "courseware" in the sidebar. To make sure that you are seeing the latest documents, switch the drop-down menu "Namespace" to "Course 11". |
2015-06-15 | Newsticker
The new innovaphone Voice Recording Flyer is available
The new innovaphone Voice Recording Flyer is now available in English. You can easily record all inbound and outbound calls with the innovaphone Voice Recording. It does not matter which end devices are being used, calls made on any IP phone, analogue, DECT or mobile phone can be recorded.
The innovaphone Multisite Recording even makes it possible to record calls from different branches with a central recorder.
Visit our download area to access the PDF file.
2015-06-10 | Newsticker
New platform for our partners: the innovaphone partner portal
We created an area exclusively for our partners which you can access via the partner login on our website. Product launches and discontinuations, exclusive partner promotions and content to download as well as a newsletter archive await you. Additionally we offer tools, which provide you with support for selling innovaphone solutions. Make sure to stop by and have fun browsing through our partner portal!
2015-06-09 | Newsticker
The last V11 sales training courses!
Software Version 11 of the innovaphone PBX will bring a wide range of new products and product details for the IP telephony and Unified Communications solution. So don't miss the last two update sales webinars, to complete your iAR V11 partner status. Even if you aren't yet a partner, we still invite you to take part in a live demo, where we will show you what the innovaphone communication solution has to offer (ca. 30-45 minutes). We look forward to you participating at 10 am on either 19 June (English) or 26 June (German).
Register for the webinar in English on 19 June
2015-05-28 | Newsticker
New icon for UC Client myPBX
Our myPBX UC client has had a facelift with a new icon. myPBX stands for Unified Communications and Collaboration, and the new myPBX icon depicts just that. An abstract icon showing two people communicating with each other symbolizes the close and simple collaboration enabled by myPBX. From Version 11 Release 2, the icon is available on the taskbar or e.g. as a tile on the Windows 8 start page.
2015-05-13 | Newsticker
Version 11 Release 2 is now available!
The second release of Version 11 has been launched, and is available for all users of Version 11 to download free of charge. It can easily be installed over the previous version of 11r1, no new licenses or certifications are necessary.
11r2 is a rather technical release and includes the following highlights:
PBX Wakeup CallWakeup Call allows user-specific programming of a call that takes place at a time you set. This can be set once or as standard. It is also possible to store an audio file that is played when the call is answered. Wakeup Call is configured and managed via the normal admin interface of the PBX and can be included in different user interfaces via the SOAP interface as usual.


PBX groups
Pickup groups can be created from users who are logged on to different PBXs. This reduces the load for each PBX. This means that it is even easier to create pickup groups across multiple locations.


OnDemand RTP Recording on the phone
By pressing a function key on the phone, a recording can be started during a phone call. OnDemand RTP Recording is only available with innovaphone Voice Recording.


Pcap2wav - is now also available with G.722


802.1X Proxy Logoff - unplugging a device that is connected behind a phone secured by 802.1X is now recognized and logoff is initiated by the phone.


DNS for NTP and alarms/events - name resolution is now available for even more convenient input so that the IP address no longer has to be entered. This is particularly convenient in the context of IPV6.
Together with the second release of V11, communication on all innovaphone end devices becomes possible via the G.729 codec
G.729 is a voice codec that needs very low bandwidth and is not loss-free. In the past, the codec was mainly used when there was a lack of bandwidth in the Internet. Today, it serves to guarantee compatibility with other devices.
The IP111 telephone and the software telephones for Windows and Android do not have Codec G.729 when supplied. It can be bought as a separately software license (G.729 one-channel license for innovaphone PBX) and is installed on the innovaphone PBX. We recommend a mixed calculation in the project, one license per end device without hardware-integrated G.729 codec. Two G.729 licenses are required for three-party conferencing as one G.729 license is used per voice channel. Please also note: a call over G.729 to end devices without a hardware-integrated G.729 codec can only take place if the innovaphone PBX has sufficient licenses.
2015-04-16 | Newsticker
Available now: New Product Catalogue 2015/2016
The new innovaphone Product Catalogue 2015/2016 is now available in English. It contains information about our current range of products. In the download area you will find the relevant PDF file.
2015-03-25 | Newsticker
CeBIT 2015 – Thank you for visiting our stand!
Thank you very much for visiting our stand during CeBIT 2015. We were pleased to meet you in person and to get to know you better. We enjoyed many constructive and interesting technical discussions, which lay the groundwork for successful cooperations. The innovaphone AG team thus looks back on successful exhibition days and looks forward to expanding the newly created partnerships in the coming weeks and months. A heartfelt thanks also goes to our partners, who made a visit to our stand even more worthwhile this year: byon, estos, Jabra, TE-Systems und Voxtron. As always, we have brought you a few impressions from the show. See you next year at CeBIT 2016 in Hanover!
2015-02-18 | Newsticker
V11 Release 1 now available!
The V11 release has arrived! You can now upgrade to V11. Here you can find an overview of the new features, devices and possibilities with the innovaphone PBX V11.
On the occasion of the V11 release, we are offering attractive promotions, with which you can save up to 50%. Take advantage of the opportunity and take part in the V11 campaigns!
5 UC Lics for free (1 February – 30 April)


Just sign up for the promotional campaign and receive 5 free UC licenses. If you took part in the last "5 UC lics for free" campaign in 2013, you will instead receive a software service (SSA) in order to upgrade the existing 5 UC licenses to the current firmware V11 version.

IP810 Lics included (1 March – 31 May)
Sign up for the campaign, buy an IP810 and get all interface licenses for free.
You will also find all promotional campaigns with their exact terms and conditions and the appropriate registration forms on our website. If you would like to look at all the campaigns in a pdf file overview, click here.