Newsletter 06/2012
Dear Newsletter reader,
Our new website is not only getting better and better but also more and more lingustic :-) Our website is now also available in Spanish! There are still one or two little glitches here and there but we are working on smoothing it out. Take a look!
What's more, you can also experience the brand new world premiere of our innovaphone corporate film – not yet available in Spanish - but that is just a question of time!
We proudly present: Our innovaphone corporate film!
In March of this year many innovaphone employees turned to amateur dramatics! It took two full days of filming in our headquarters in Sindelfingen to make our corporate film. A film team from Berlin came down with a ton of equipment. Cameras, lighting technology, more than 150 metres of cable, they even had a camera crane and, and, and… The cameras rolled 86 times in order to record about 100 minutes of raw material in 4K with 1,000 GB of data. 20 people stood in front of the camera. More than 15 people were backstage and the post production ensured that everything ran smoothly.
All this effort finally went into making a 5 minute innovaphone corporate fim. We are very happy with the final result and enjoyed discovering some hidden acting talents :-)
Take a look for yourself. Click here and experience the world premiere of our innovaphone corporate film! By the way, the film is available in German, English, Italian and French, and will soon also be available in Spanish and Polish. Take a look at our YouTube channel (innovaphoneTV).
Enjoy the film!
innovaphone in practise: duka AG
duka from South Tyrol employs innovaphone telephone system
(…) duka was founded in 1979 and has since become one of the most renowned producers of shower cubicles. With its customer base expanding and a growing wish to optimise company communication, duka decided to replace its existing telephone system in order to thoroughly modernise its infrastructure. The decision makers opted for an innovaphone PBX. (…)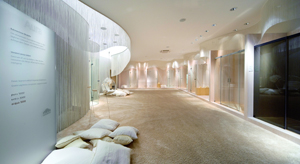 A modern communication infrastructure allows the company to face up to new challenges. After the old telephone system had been in place for more than 12 years, the duka management decided to opt for a state-of-the-art solution. (…)
"We knew from day one that we should go for a voice-over-IP telephone system. The technology is now in a mature state and enables us to integrate our headquarters and the branches in a standardised, central telecommunications infrastructure. When we had to decide which offer to go for, innovaphone came out top. This was driven by a recommendation made by Walter Sigmund from Sicomm in Varna, one of innovaphone's long-term partners," the head of the administration department, Markus Mitterrutzner, adds. "This solution did not only convince us because of its outstanding price/benefit ratio, but also, because it allows us to implement changes autonomously, without having to rely on the help of external technicians, as was the case with the old system. As mentioned before, this would involve adding new telephones or defining caller groups. Thanks to innovaphone, there won't be any more additional costs or delays in future," Mitterrutzner states. (…)
This and other reports about successful installations with innovaphone are available here. Click here for the pdf version of this case study.
IP810 is available from calendar week 30!
A promise is a promise! We said we would let you know about the availability of the IP810 as soon as possible. And now we know: the IP810 will be available from calendar week 30! We look forward to your orders. For more information about the IP810 take a look at the innovaphone News 03/2012 again.