Newsletter 12/2012
Dear newsletter readers,
The scent of gingerbread fills the air, twinkling lights are in the gardens… we can't deny it any longer, Christmas is on its way! Racing towards us :-) And as we are surrounded by the feeling of Christmas we present you today with our Christmas edition of innovaphone News, before we take a short Christmas break. The innovaphone team will be unpacking its Christmas presents from the 24th of December until the 1st of January, but we are of course available over the Christmas period in case of emergency, and will be back in the New Year well rested and raring to go.
We recently had a wonderful experience, almost like an early Christmas present when we, together with our innovaphone PBX, stepped onto the winner's podium of the funkschau Reader Awards. We thank everyone who voted for us, we are very proud of our funkschau Reader Award cup!
We wish you all a wonderful Christmas time, a Happy New Year, and of course, lots of fun reading our newsletter.
By the way … don't forget; the New Year will be here before you know it. Be prepared and book your next innovaphone training course, for example the Basic Training (EN) from the 22-25 of January 2013 in Sindelfingen. Another fact that may be interesting for V8 Basic training participants or V9 Advanced und Update participants, who unfortunately did not pass the exam: sign up for the next V9 Advanced training course from 28 January – 08 February 2013, to complete your V9 iCE training successfully.
One more important fact to remember is that the IP230 will soon be discontinued. It hasn't been part of our product catalogue for some time but has still been available for current projects. However, the Last-Time-Buy is the 31st of March 2013. We guarantee that all orders received by innovaphone by and including the 31st of March 2013 will be delivered.
Now add pictures to your calls: the innovaphone video telephony solution
Desktop video calls will be easier than ever with the Unified Communications solution by innovaphone. This will be available with the future innovaphone PBX Version 10 (V10) and we are proud to give you a little taste of what will be possible with the innovaphone video telephony solution.
You have an innovaphone PBX? You are using the innovaphone UC-Client myPBX (V10) and an innovaphone IP telephone such as IP2x2 or IP241? Very good, as you already have quite a few pre-requisites for using the innovaphone video telephony solution. All you need now to start a call with moving pictures is a standard webcam and a computer with Windows 7.
As soon as a call is accepted, a video window automatically opens on your desktop showing the person you are calling. You can alter the size of this window as you please. There is also an additional window for you to check your own picture (e.g. are you really looking directly into the camera?) The additional window can be put in the corner of the video window - wherever you need it.
Three party video calls with the innovaphone video telephony solution are also possible without an additional MCU (Multipoint Control Unit). Bring a third person into your call in the usual way - as soon as the connection is up the video window also shows the third person on the desktop. The quality of a three party call always depends on the performance of the hardware being used (graphics board).
No additional configuration is necessary on the myPBX Client for the innovaphone video telephony solution. User name, password and the phone being used are simply accepted by the myPBX V10. The user just has to activate Video, and the user can decide at any time whether he/she wants to use the function or not. Just right click the myPBX goldfish icon in the Windows task bar, a simple tick is all it takes to activate or deactivate the video function. In the current Beta version, an additional orange coloured dot under the goldfish icon indicates to the user that the Video function is activated.
The innovaphone video telephony solution is H.264 compatible and requires between 200 and 300 kbit/s bandwidth – depending on the webcam, scene (busy or quiet) and the encoder. The video quality is of course influenced by the available bandwidth, but also by the video camera's resolution. The video telephony solution is currently in the Finishing phase and can already be tested with the current innovaphone PBX V10 Beta 2 software pack. One myPBX and a video license per workspace are necessary.
You are welcome to test the solution on our V10 Beta Forum. We look forward to your feedback.
Soon to be on board: the innovaphone Fax solution
Want to send a fax over the innovaphone PBX from Outlook? No problem: the innovaphone PBX Version 10 makes it possible – with no need for an additional fax server, additional software or interfaces. An innovaphone gateway just turns into a fax server. All you need is a 10 series gateway (IP6010, IP3010 IP0010 or IP810) or an innovaphone Virtual Appliance (IPVA + VMware) and a Linux Application platform. The innovaphone fax solution runs as an application over Linux like innovaphone Reporting.
One fax license is needed per user, then you can start faxing from Outlook with your personal fax number as soon as the application has been installed and configured via the innovaphone web interface. Any OpenOffice-compatible document can be sent as an email to the fax solution and is then forwarded to the desired fax recipient. Company or site cover notes can be added if required. Incoming faxes are received as an email with a PDF attachment.
An email message informs you whether the fax has been sent successfully or not. These messages or error messages can be edited and even translated as necessary via the innovaphone web interface. Furthermore, they can be set differently for master and slave PBXs. E.g. German texts for the Master PBX in Berlin and French texts for the slave PBX in Paris.
Interested? Then look forward to innovaphone PBX Version 10. You will soon be able to pre-test the innovaphone fax solution. The innovaphone PBX V10 Beta 3 Software pack should be available on the 17th of December 2012 and you will be able test the fax solution with this. Just visit our V10 Beta Forum.
New innovaphone pictograms available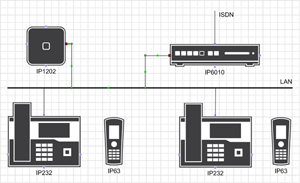 There are some totally new innovaphone product pictograms in our download area. These are very much simplified product pictures, yet detailed enough to be recognised even as a small picture.
The entire innovaphone product portfolio (hardware) is available to you, including additional elements such as computers, fax devices and routers. The pictograms are all available as vector graphics and can easily be combined with other shapes from MS Visio – e.g. for computer, networks and peripheral devices.
MS Visio is a simple and fast solution to graphically show any scenarios with innovaphone products. The result can be exported in various formats and can be used for project offers, to discuss various solution options, for project documentation etc.
A second variation in the download area is for use with MS PowerPoint. The vector graphics can be converted to any other formats.
Click here to go directly to our download area.
innovaphone in practise: CHI Hôpitaux du Pays du Mont-Blanc
When modernising its telephony infrastructure, the CHI hospital at the foot of the Mont Blanc opted for VoIP technology provided by the European communication specialist innovaphone. The fact that the existing communication system was outdated and that the term of expensive maintenance contracts was nearing an end, made way for leading-edge technology from Germany – innovaphone's unified communications solution. (…)
For internal communication purposes CHI had been using an Alcatel telephone system for more than 15 years, and it was completely outdated. As it became increasingly difficult to find replacements for defective components, it became imperative to find a new system. Having received several offers (…) the responsible managers reviewed the various solutions. Their most important criteria in terms of requirements were security, remote maintenance as well as usability. In addition to that, there was particular focus on new unified communications functionality, especially with regard to voice mail. (…)
Since June 2011, internal telecommunications is processed via three innovaphone PBXs with IP230 and IP110 innovaphone end devices at the three locations in Sallanches, Chamonix and the Chamonix retirement home. AN IP adapter connects the old analogue extensions and fax machines to the relevant VoIP gateway. 650 telephone connections are managed by the system. The three innovaphone PBXs run separately and manage all extensions at their location. They also establish the connection to the public telephone system. In the event that one of the systems fails, extensions register with the second, redundant PBX, so that all functions of the PBX can be continued seamlessly.
CHI's head of IT, Mickaël Guyot, believes in the innovaphone PBX: "We have opted for the innovaphone PBX, because it's a homogeneous system, which our in-house IT department can easily manage. This makes the innovaphone solution stand out among other systems that were presented to us. (…)."
In Chamonix, the conversion to the new system was implemented in one night, Sallanches was switched over the next day and the old end devices were replaced by IP110 and IP230 devices – in all offices, for all staff including administrative positions and nursing personnel. The entire conversion took three working days and included the retirement home in Chamonix. (…)
This and other reports about successful installations with innovaphone are available here. Click here for the pdf version of this case study.