Newsletter 08/2013
Dear Newsletter reader,
Summer is spoiling us with great weather, lots of sun and temperatures luring us to visit an open-air pool. In order to make the most of this, we are taking a small newsletter summer break :-) and we'll be back in September with new topics surrounding innovaphone.
But we shall not be going quietly! Today we want to show you our innovaphone UC promotional campaign calendar. We have thought up some great UC campaigns aimed especially at your current but also at future innovaphone end customers. You will find new offers every month - from August 2013 through January 2014. Find out more in this newsletter...
Don't miss our topic on interoperability between XCAPI and innovaphone PBX, not forgetting our note on V7 support.
By the way: we would like to draw your attention to a price change by our technology partner ESTOS. Please contact your Reseller for the current valid price list.
And now it really is time: Summer break! And of course: Have fun with the July issue of the innovaphone newsletter.


UC promotional campaign calendar for end customers
Version 10 of the innovaphone PBX has been released! It includes a wide range of Unified Communications functionalities, which are now waiting to be discovered by you: The Unified Communications client myPBX, the Video, Office Integration, Fax functionalities and many more... Therefore, innovaphone is launching a special colourful array today - especially for current innovaphone end customers, but also for those who would like to be a future innovaphone end customer. Enjoy attractive offers every month with our innovaphone promotional campaign calendar from August through January. Joining in is certainly worthwhile!
August: 5 UC licenses free of charge
Just register to innovaphone for the promotional campaign and receive 5 free UC licenses. Promotion period: 1 August - 30 September 2013
September: Buy one, get one free
Register with innovaphone and get one UC license free for every UC license purchased during the promotion period. The offer is limited to 100 purchased UC licenses. Promotion period: 1 September - 31 October 2013
October: Buy 1 IP810, get fax for free
Register to innovaphone, buy an IP810 at standard conditions during the promotion period and get 20 Fax licenses including SSA for one year on top. Promotion period: 1 October - 30 November 2013
November: Buy myPBX to get video for free
Register to innovaphone, buy myPBX during the promotion period and get Video functionality free. Promotion period: 1 November - 31 December 2013
December: Buy myPBX to get mobility for free
Register to innovaphone, buy myPBX during the promotion period and get Mobility functionality free. Promotion period: 1 December 2013 - 31 January 2014
August to January: IP810 - 10 %
Register with innovaphone, buy one or more IP810 during the promotion period, and get a discount of 10%. Promotion period: 1 August 2013 to 31 January 2014
You'll see: You can benefit from a new offer every month! So don't hesitate and register for the first campaign now!


This promotional flyer contains an overview of all of the promotional campaigns. You will also find all promotional campaigns with their exact terms and conditions and the appropriate registration forms on the Website UC promotional campaign calendar. If you have any further questions, please feel free to contact your innovaphone Reseller.
XCAPI and innovaphone PBX interoperability
Thanks to H.323 and SIP compatibility, XCAPI from TE-SYSTEMS enables fast, simple migration from ISDN applications to Voice over IP ensuring excellent quality and without requiring any modifications to the existing application base. This allows applications such as Voxtron's Call Center solution to be connected to the innovaphone PBX easily.


In such cases, innovaphone basically recommends a SIP connection. Extensive testing of our technology partner TE-SYSTEMS were conducted confirming the full interoperability of XCAPI with the innovaphone PBX over SIP.


More detailed information on the configuration of XCAPI in connection with the innovaphone PBX can be found in this Wiki article.
Support for V7 ends soon

There is a lot going on at innovaphone. The new Version 10 of the Unified Communications solution innovaphone PBX has recently been released.


Our goal is of course to always provide top support to our partners and customers. Therefore, it is necessary to restrict the number of firmware versions that can be supported by us. As a consequence, we have decided to discontinue the support for Version 7 from 1 January 2014. From that date onwards, the innovaphone Support team will concentrate only on requests concerning Versions 8, 9 and 10. Thank you for your understanding!




innovaphone in practise: Dronning Ingrids Hospital in Greenland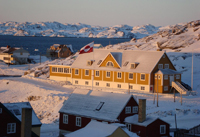 Dronning Ingrids Hospital (Queen Ingrid's Hospital) is Greenland's central hospital. It was founded in 1953 and is situated in Nuuk on the west coast, the island's capital and largest city. About 16,000 of Greenland's total population of 55,000 people live in Nuuk, the rest in smaller towns along the fjords in the south-west of the main island, which has a relatively mild climate. Naturally, there are many small hospitals, all of them gathered under the roof of Dronning Ingrids Hospital. A combination of Ascom and innovaphone solutions have been implemented to integrate all Greenland hospital sites in one modern IP communication system. (…)
Before the new IP communication infrastructure was installed in the various hospitals, all of them had standalone systems such as Nortel Meridian solutions in the bigger places and Aastra PBXs in the smaller hospitals. There was no connection whatsoever between the different sites of Dronning Ingrids Hospital. Therefore, the primary requirement was to integrate all 16 hospital sites into one homogeneous network. In addition, a lot of further applications had to be integrated and should be available in all locations. Henrik Skafte explains: "Devices such as nurse call, wireless DECT, personal alarm, voice recording, fax or door communication system had to be integrated into ONE system." Two innovaphone IP6010 PBXs were shipped to Nuuk hospital, another 23 smaller innovaphone IP800 PBXs were delivered to the smaller hospital sites. Furthermore, 225 Ascom DECT phones (D62 Messenger) and 300 innovaphone IP110 terminals completed the order. (…)
The innovaphone solution is very flexible, further connections for new stuff are easily set up. This is very important since there is a lot of fluctuation in Greenland hospitals. In Nuuk hospital, a place with a large number of new employees it is highly important that the in-house technical staff can do this sort of service work themselves. Asked about his final conclusion, Henrik Skafte says: "This Greenland hospital project is a win-win-win-win situation. >Win< for Ascom, for innovaphone, for Comby and for the hospitals."
This and other reports about successful installations with innovaphone are available here. Click here for the pdf version of this case study.