Newsletter 12/2013
Dear Newsletter reader,
The year is drawing to a close inviting us to join in the end-of-year festivities. Easily recognisable by the lights, the scent of freshly baked cookies and the cosy conviviality. Christmas is just around the corner - enjoy the festival of all festivals! We take this opportunity to wish you and your families a joyful and relaxing holiday season and send best wishes for a healthy and prosperous year in 2014.
Before we start the next busy year, we will take a short break from 24th December 2013 to 1st January 2014 in order to spend valuable time with our families - from 2nd of January 2014 we will be back again - well rested and available as usual.
This last edition of innovaphone News in 2013 brings you information about which events in the past 12 months have driven our company forward.
2013 in fast forward
2013 has been an exciting and successful year for innovaphone in many ways under the motto: Unified Communications by innovaphone! With the launch of the innovaphone PBX Version 10 in spring 2013, we finally completed our changeover from an IP PBX manufacturer to a provider of end-to-end UC solutions. This release completely changed the myPBX Unified Communications client. Since it was given its entirely new design, myPBX has become more modern and clearer - even the usability is again much easier. Finding contacts, saving contacts in a Favourite list or contacting them is now child's play. No matter whether you want to email, chat or call - all functions can be started with just one click. V10 also brought myPBX an ad-hoc Video solution, which makes calls more personal and interactive. No additional server is required for the Video telephony solution.
Office integration is another novelty that evaluates the different sources of Presence information and processes it to be shown as a valid Presence indicator. It even takes information from Office calendar entries that appear as an additional note. Unnecessary calls area a thing of the past, because the Presence indicator is automatically updated in real time - in the myPBX Unified Communications client, in the Office applications, as well as on the end device. Sending and receiving faxes has never been more convenient: With the new Version, faxes can be sent and received (mail-to-fax and fax-to-mail) - directly via one's own PC from Outlook without an additional fax server.
The new Version 10 was accompanied by a tempting introductory offer, the "UC promotional campaign calendar". Since August 2013, there has been a new campaign every month where you can get various Unified Communications functionalities free of charge - a great opportunity for you to select exactly which Unified Communications element you would like to get to know. By the way, the last campaign does not expire until the 31 January 2014!
We have not missed any important fairs this year and have enjoyed presenting our Unified Communications solution. innovaphone was there - IT partners in Paris, CeBIT in Hanover, SIMO network in Madrid, Réseaux & Télécoms in Paris, Enterprise Mobility Summit in Bonn, SMAU in Milan, Funkschau Congress in Munich or TechnologyBIZ in Naples. The plans for the coming year are already in full swing. We look forward to meeting you at our pan-European innovaphone dialogues, and of course, we will be at CeBIT 2014 in Hanover.
innovaphone posted growth again with the developments of 2013. In financial year 2012/2013, we achieved a further increase in revenues and are very pleased that the number of employees has grown to more than 70. In addition, we want to welcome 33 new iAR (innovaphone authorized reseller) and 5 new distributors from all over Europe to the innovaphone partner family.
As the year is drawing to a close, we would like to cordially thank all involved for their good collaboration and loyalty and look forward to the challenges that 2014 will bring.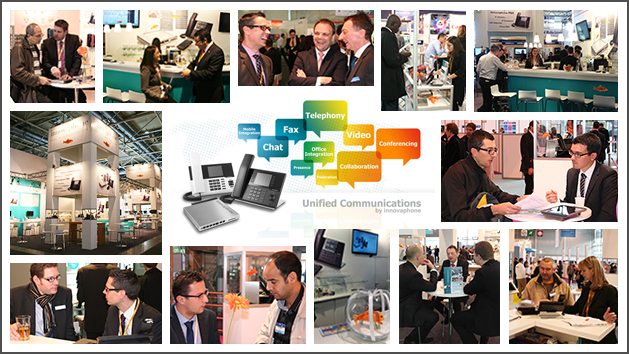 Happy New Year IP52, IP54, IP55, IP56 and IP64!
In keeping with the end of the year, we say goodbye by the following members of the innovaphone product family: IP52 (50-00052-001), IP54 (50-00054-001), IP55 (50-00055-001), IP56 (50-00056-001), IP64 (50-00064-001) and related accessories. We will accept orders only until and including June 24, 2014. We can still deliver the products if you place your order before this date.
innovaphone in practice: Telepark Passau GmbH
In June of this year, the flood of the century put the innovaphone IP800 VoIP gateway on a particularly tough test. Telepark Passau GmbH supplies customers throughout the city of Passau, as well as in parts of the district, with communications services in cooperation with national and international operators.
When the city of Passau was particularly hard hit by the floods, water rose to
the first floor at one Telepark Passau customer's building. This completely flooded the IP800 located in the basement of the building, which provides the
S0 - interface for the customer's system, for more than 24 hours. The rescue operation began once the flood had gradually withdrawn: the IP800 was cleaned, the sand was washed out and the board was dried with a hair dryer. After an hour, the gateway was brought back to life and is still being used today for presentations and customer acquisition. Even on the outside, it is still top in form: due to the stainless steel housing, the VoIP gateway shows no traces of rust.