News 03/2014 | english
Dear Newsletter reader,
CeBIT 2014 is now behind us and we spent a great and successful week at the fair. We would like to thank the many visitors to our stand. Interesting discussions and contacts developed in a pleasant atmosphere. We have put together a few impressions for you in our CeBIT trade fair film. You will find it on our YouTube channel "innovaphone TV" or on our innovaphone website. Have fun watching it and we look forward to seeing you again at CeBIT 2015!
The launch date for the first analogue VoIP gateway in the innovaphone product family, the IP38, is now available: 26th of March 2014! It is equipped with eight analogue FXO interfaces and is primarily intended for use as an analogue media gateway. In installations where only analogue connections exist to the trunk line, the IP38 converts these into IP lines thus creating the conditions needed for modern IP telephony.
For more information about the IP38, see our website. You can see an overview of all innovaphone gateways here.
Our newsletter is now also available in Polish and Spanish. If you would like to receive the Polish newsletter, please click here. To register for the Spanish newsletter click here.
We hope you enjoy reading the May edition of our newsletter.
innovaphone Voice Recording
Recording calls has a negative connotation, especially at times of phone-hacking scandals. However, there are certainly situations where recording can be essential and even life-saving, for example in emergency call centres at police and fire departments, or for banks and services, whose telephone calls are contract-binding.
The innovaphone Voice Recorder, which is currently still in the Beta phase, is exactly the right tool for these scenarios. It allows all external calls, whether inbound or outbound, to be recorded. The source of the call does not matter either. Calls can be recorded with IP phones, analogue phones, IP DECT devices and mobile phones. It is also possible to pinpoint which calls should be recorded. Call recording takes place once the connection is established, and ends when you disconnect. The file is then available in wav or mp3 format and can be played back with any media player.
In addition to voice recording, the file contains extensive information such as date, time, caller, call direction, duration of the call and duration up to call pick-up. The complete call process (call forward, pick-up, conferences, queues, etc.) is also documented. You can set an automatic backup to prevent any loss of data.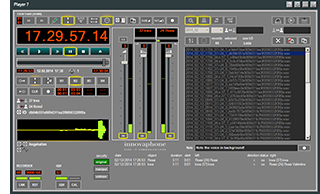 All recordings can be managed conveniently and even edited using the built-in player. By setting filters, recordings can be searched by date, call direction or participants. In addition to playback, the player also serves for joining, archiving and deleting recordings. Management of the recordings is also logged to ensure the audit trail.
Have we aroused your interest? Then test innovaphone Voice Recording before its release. The Beta Forum provides you with an overview of the various functions. We are always pleased to receive feedback!
Learn about the various functions of the innovaphone Voice Recordings in this wiki article.
No desire to be active or to keep reading? Then, sit back and just watch! The tutorial for innovaphone Voice Recording (in German) is now available on the YouTube channel "innovaphone TV" and the website.
"IT Security made in Germany"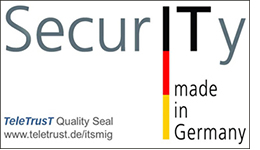 Systematic data surveillance by the NSA data has caused uncertainty even among German companies. This is increasing the importance of quality marks certifying the security of professional communication solutions. innovaphone is now allowed to use the "IT security made in Germany" mark, awarded by TeleTrusT, the German IT security association. It is awarded exclusively to German IT companies, which develop their products in Germany and meet strict criteria on IT security and data protection.
The security mark is a confirmation of many years of development work: As a manufacturer, innovaphone has always implemented all conceivable mechanisms in its products to ensure maximum security. The modular system has all possible security protocols - SIPS, H. 235, SRTP, AES, HTTPS, LDAPS and more, so that the appropriate technical measures can be taken by the person installing the innovaphone PBX.
In the current crisis, innovaphone is benefiting from the confidence that the company has established itself for many years as a reliable German manufacturer, which is familiar with the specific requirements of telephony in Europe.
Read the complete press release here.
innovaphone in practise: Groupe sanef
In order to take GSM calls at the emergency call points installed across the entire motorway network in North-Eastern France, the company sanef has opted for VoIP and Unified Communication solutions by innovaphone, the German specialists. sanef is one of the leading motorway companies in France.
Prior to the changeover of the communication infrastructure, sanef mainly used two communication technologies for its emergency network in France: loading coils from telegraph cables (so-called pupin coils), as well as the analogue 3RP radio technology. In order to reduce the maintenance costs incurred by the outdated communications network, sanef decided in 2006, to renew its emergency network.
Today sanef's emergency call network consists of 1,700 GSM emergency call points, divided into two geographical zones. For each zone, the emergency call points are assigned to two call centres and a PSAP in emergency mode. There is thus six call centres in total. Every call centre has an innovaphone ISDN/IP IP800 gateway to answer the calls from the emergency call points, as well as an IP230 IP phone to manage communication. Thus, six IP800 VoIP gateways and six IP230 end devices are used in the solution as a whole.
The installation of the call centre took only a few days. Thierry Blond, head of the emergency call network project, assures: "The actual strength of the innovaphone solution is its easy installation and high reliability. Most importantly, we do appreciate that the PBX can be managed centrally. All devices are easy to configure - and require a minimal amount of maintenance. Since 2000, we have been systematically offering innovaphone products (IP230, IP800) with our emergency call network solutions. Currently, we have more than 80 call centres in and outside France using the innovaphone solution."
This and other reports about successful installations with innovaphone are available here. Click here for the pdf version of this case study.
---
innovaphone AG
P U R E I P - C O M M U N I C A T I O N S
Böblinger Straße 76 | 71065 Sindelfingen | Germany
Fon: + 49 (7031) 73009 0 | Fax: + 49 (7031) 73009 99
Email: info@innovaphone.com | www.innovaphone.com

Sitz der Gesellschaft: Sindelfingen | HRB Nr. 245196 Amtsgericht Stuttgart | Vorstand: Dagmar Geer (Vorsitzende), Carsten Bode, Guntram Diehl, Gerd Hornig | Vorsitzender des Aufsichtsrates: Gebhard Michel

We provide information about our developments at irregular intervals. Please click here if you would like to be deleted from the distribution list.

Liability: Although we carefully check contents of external links, we can in no way be liable for the contents of such links. Responsibility for the content of linked sites rests solely with the owners of those sites.

Errors and omissions excepted. Technical specifications and delivery times may be subject to change.
Copyright © 2014 innovaphone® AG

Imprint