News 04/2014 | english
Dear Newsletter reader,
In the April issue of the newsletter we will introduce you to the innovaphone Queue Monitor with its innovations in our new flyer and video. You can also check out the first part of our multi-part Specials about various aspects of the innovaphone Mobile Integration solution. Finally, you will also find a case study example on the subject of "Integration of door intercommunication systems in innovaphone systems".
We are pleased to award the inFam status to effexx Telecommunications GmbH. inFam is the highest status that a partner can be awarded in the innovaphone partner programme and it stands for particularly good collaboration and excellent sales services. We have put a few pictures of this for you in our News.
Follow us! innovaphone now has its own page at Google+. We will provide you with innovaphone News there on a regular basis: Promotions, new products, partnerships and more. We are looking forward to your visit!
And now... have fun with the innovaphone news!
Keeping track - call center analysis for VoIP telephone systems
Have you already seen the new functions of the innovaphone Queue Monitor? If not, then check out the news in the current flyer. In addition to that you will find a tutorial (in German) on our website or on our YouTube channel, which clearly explains the extensive features.
The latest features at a glance:
iQM Agent: All relevant information is presented to call centre employees clearly and in real time.


Second queue: Calls in one queue can be assigned to another queue if too many calls are, for example, waiting in the first queue.


iQM Dashboard: Overview of the number of calls, waiting time and number of agents. Exceeded limit values can be displayed.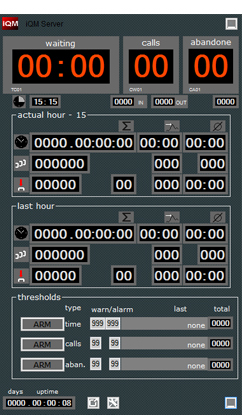 Other screens:
Call volume
Number of calls per queue
Waiting time of the oldest call
Number of callers who have aborted the call prematurely
Limits can be set for various early warning and alarm functions
Individual adjustment of post processing time after a phone call
The innovaphone Queue Monitor is a call centre tool integrated perfectly into the innovaphone PBX allowing operation of switchboards, service hotlines or simple call centres.
A detailed breakdown of the utilization of call centres is very helpful for optimizing the management and control of resources. How many incoming calls are there? How many calls have been in the wait queue and for how long? How many callers hang up prematurely - even before they are put through? The innovaphone Queue Monitor (iQM) collects this information from the innovaphone PBX in real time and displays it graphically and concisely. With this detailed overview of utilization in a department, an assessment can take place to show how well a telephone service system is working and it shows whether, when and where there may be bottlenecks. With the innovaphone Queue Monitor, competent call centres can be operated that make efficient use of existing resources. This not only saves costs, but also increases customer satisfaction significantly.
innovaphone Mobile Integration - part 1



DECT - old hat or contemporary communication?




The well-proven DECT technology still provides a reliable and cost-effective alternative for communication within buildings with a high number of employees e.g. in hospitals or in production and storage facilities.

The innovaphone IP DECT solution is integrated perfectly into the innovaphone PBX and is well suited to making cordless telephone calls in the building or on the premises. The IP DECT base stations are connected directly to the company network and are fully SIP and H. 323 compliant on the IP-side. The multicell capability of the base station means that multiple devices can be installed, and roaming and automatic handover work well amongst these devices. Thus, very large areas or even areas that are difficult to access can be covered reliably. The IP1202 DECT base station is implemented and complemented by IP61 and IP63 DECT handsets.
The advantages of professional DECT solutions are above all excellent voice quality and the long battery running time of the devices, as well as infrastructure components that have been optimized for smooth voice transmission thus allowing coverage even for difficult terrain or building conditions.
In this sense, we recommend not to lose sight of IP DECT when it comes to mobile communication. Of course, with the innovaphone PBX we also count on Smartphone integration or special Wi-Fi phones, however, when integrated correctly, IP DECT still retains its importance.
For further information about our Mobile Integration solutions, please click here.
Video door communication and control via IP232 with StentofonBaudisch
Since the innovaphone PBX version 10, it has been possible to receive video images on the display of an innovaphone telephone (IP232, IP222 and IP241) if you have a suitable video door intercom system.
StentofonBaudisch GmbH manufactures high-quality products in the area of SIP intercom, and integrates the innovaphone IP232 into a Baudisch SIP video door intercom. If there is an incoming call, the video image can be displayed before the call is answered and even before the door is opened. Thus ensuring maximum safety. The door can be opened then conveniently via your telephone keypad. The light can also be controlled via the keypad. innovaphone phones can easily be integrated in Baudisch door intercoms.
Click here to see the short clip describing a case study with StentofonBaudisch.
Would you like to integrate your door intercom in an innovaphone system? See this wiki article for more detailed information about the individual settings and requirements.
innovaphone in practise: secion GmbH
secion GmbH has its headquarters in Hamburg and is an established specialist for IT security solutions. For many years, an Asterisk PBX that had been configured by secion itself managed secion's telephony. There was an urgent need to find a modern communication solution that was, at the same time, both stable and reliable. The innovaphone PBX fit exactly into the Hanseatic Company's requirement profile.
The Asterisk PBX, which was setup by the company itself and had been in use since the company was founded in 2004, was beginning to show initial signs of fatigue. As the effort involved in maintaining the system increased, the question of replacing the system with a new telecommunications system arose. secion placed great importance on reliability; simple integration of new work stations and home offices; fax integration and availability of modern UC applications. These are all issues that are completely covered by the innovaphone PBX.
A total of 16 subscribers were connected to an innovaphone PBX type IP800 with 4 S0 ports. In addition, there were two home office work stations, which were also integrated in the corporate network. Fax integration is realized via an innovaphone IP22 IP analogue adapter: "This eliminated one of the old system's central problems," explains Marcus Henschel, Managing Director of secion GmbH. "The fax connection was very unreliable. The new system meant we could be sure that our fax traffic was stable. The smooth running of the business processes is of major importance," continues Henschel. UC applications play a significant part in this. Secion attaches particular importance to the innovaphone Voicemail - a network-wide voicemail solution available for every subscriber on the innovaphone PBX.
The innovaphone PBX is characterised by a high degree of stability and reliability. In order to ensure that company communication runs smoothly even in the unlikely case of system failure, it is possible to set up a second PBX running in a redundant secure system. secion decided on this solution and a second IP800 VoIP gateway was setup as a standby PBX, which immediately takes over all the features of the PBX should the main system fail. Thus, secion continues to be available all the time - maximum security for a reasonable price.
With regard to considerations to further extend the communications infrastructure, Henschel says: "Now all lines on the existing system are occupied. If necessary, we can easily expand the infrastructure by adding another IP800 and purchasing additional licenses."
This and other reports about successful installations with innovaphone are available here. Click here for the pdf version of this case study.
---
innovaphone AG
P U R E I P - C O M M U N I C A T I O N S
Böblinger Straße 76 | 71065 Sindelfingen | Germany
Fon: + 49 (7031) 73009 0 | Fax: + 49 (7031) 73009 99
Email: info@innovaphone.com | www.innovaphone.com

Registered Office: Sindelfingen | HRB Nr. 245196 Amtsgericht Stuttgart | Executive Board: Dagmar Geer (Vorsitzende), Carsten Bode, Guntram Diehl, Gerd Hornig | Chairman of the Supervisory Board: Gebhard Michel

We provide information about our developments at irregular intervals. Please click here if you would like to be deleted from the distribution list.

Liability: Although we carefully check contents of external links, we can in no way be liable for the contents of such links. Responsibility for the content of linked sites rests solely with the owners of those sites.

Errors and omissions excepted. Technical specifications and delivery times may be subject to change.
Copyright © 2014 innovaphone® AG

Imprint