News 02/2015 | english
Dear Newsletter reader,
This is the second newsletter of the year, packed full of new topics.
The V11 release has arrived! You can now upgrade to V11. Here you can find an overview of the new features, devices and possibilities that are available with the innovaphone PBX V11. Have fun with the new software release and we eagerly await your feedback.
On the occasion of the V11 release, we are offering attractive promotions with which you can save up to 50%. Take advantage of the opportunity and take part in the V11 campaigns
5 UC Lics for free (1 February – 30 April)
Just sign up for the promotional campaign and receive 5 free UC licenses. If you took part in the last "5 UC lics for free" campaign in 2013, you will instead receive a software service (SSA) in order to upgrade the existing 5 UC licenses to the current firmware V11 version.
IP810 Lics included (1 March – 31 May)
Sign up for the campaign and get the IP810 incl. all interface licenses for the special price of 1250 €
Buy one get one free (1 April – 30 June)
Sign up for the campaign and get one UC license free for every one purchased. The offer is limited to 100 purchased UC licenses.
IP111 UC Lic included (1 May – 31 July)
Sign up for the campaign and get either one UC license or 160 SSCs free for every IP111 purchased. This requires that you currently use either a IP110, IP200, IP230 or IP240 device.
Buy myPBX get Application Sharing (1 June – 31 August)
Sign up for the campaign and get one Application Sharing license free for every myPBX license purchased.
The application form and the terms and conditions can be found here on our website.
And now have fun with our February newsletter!
innovaphone and co. at CeBIT
CeBIT is approaching and the preparations for innovaphone's exhibition at stand C38, Hall 13 are in full swing. We are pleased to announce that a nice number of partners will be joining us at the trade fair, completing the innovaphone solutions and making a visit this year even more worthwhile.
We look forward to welcoming you at CeBIT.
These partners will be at our stand: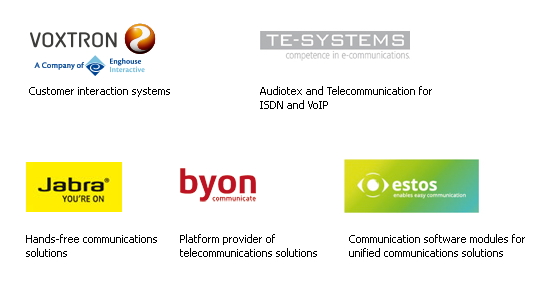 You can request appointments in advance with us again this year via our website. This time you can request not only appointments with innovaphone employees, but also with those partners, who are represented at our stand.
Click here to request an appointment and get a free ticket.
Headset connection to IP111 possible
The new innovaphone IP111 IP phone does not usually have a headset jack. There is a little trick, however, that can be done to connect a headset to the IP111.
Just connect the headset with the handset jack. The IP11 can now be switched to headset modus via "Setup – Phone setup – Device settings". The headset key is now activated and you can pick up and ring off calls via the headset key.
Have fun trying it out, because the IP111 is now available!
All IP - well equipped with innovaphone
Currently, the networks throughout Europe are being switched over from analogue or ISDN connections to standard Internet Protocol (IP). In some countries, the switch is already almost completely finished. Telephony, television, video or mobile communication: soon all communication channels across Europe will only be operated via Internet Protocol - hence the term "All IP". Unifying the transmission technologies brings great opportunities for both business customers as well as for home users.
Well equipped with innovaphone
The slogan 'Pure IP Communications' already suggests that implementing innovaphone means you are perfectly equipped for the switch to the future standard "All IP", because:
from the outset, since the company was founded in 1997, innovaphone has opted fo the future standard "IP" and can therefore calls itself a "Pioneer of IP telephony".
innovaphone looks back on many years of experience in IP telephony.
The entire product range has always been "All IP".
innovaphone's "smooth migration" scenario is particularly well suited for a smooth and gradual transition to All IP.
the innovaphone PBX is certified for all established network operators.

Conversion the easy way with innovaphone

The innovaphone product philosophy makes the transition from the old to the new technology easy. "Smooth migration", allows a gradual entry into the IP world, in several stages of innovation. The customer determines the speed of transition.
The first step is to "loop through" an innovaphone VoIP gateway between the conventional PBX and the existing ISDN line. This loop-through scenario has the advantage that absolutely no intervention in the existing telephone connection is necessary.
All analogue devices can initially still be used with just one innovaphone VoIP gateway by connecting them to the IP world with an analogue adapter.
It is easy to changeover completely at a later date: the traditional telephone system will be replaced completely by the innovaphone PBX, the IP telephony and Unified Communications solution. The existing VoIP gateway can be turned into a pure IP PBX with just one software update. Thus all UC functionalities are optionally available and can be selected individually.
So you can sit back and relax: with innovaphone you are "All IP"!
Modified keypad for IP222 and IP232
The printing and functions of somehow keys in the IP222 and IP232 phones have changed as follows:
Disconnect key replaced by headset key
The icon on the microphone key has changed (function remains the same)
Key "0" now with space key
ESC key is replaced by home key (function remains the same)
Please note: the printing on the keys and the software go together from hardware ID 1210 and firmware V10 SR16. The firmware detects which version is printed on the phone and adjusts automatically. If you use an earlier version of the firmware, it will only go together with phones with the old print version. If you have any questions, please contact your distributor, your innovaphone account manager or our Inside Sales team. We will be happy to help.
innovaphone in practice: Sumitomo Electric Bordnetze - Update 2014
Sumitomo updates its existing innovaphone PBX to cutting edge technology and adds Unified Communications functionalities
The Sumitomo Electric Bordnetze GmbH has made the most of extending its communication infrastructure and relocating its headquarters to update its innovaphone PBX. The update means that Sumitomo now has all of the "UC by innovaphone" solution functionalities, and mobile devices are seamlessly integrated into the corporate infrastructure.
One new feature immediately shouts out: the new innovaphone designer IP222 phones have replaced the previous innovaphone IP240 phones on employees'desks. These were coveted with the "red dot award: product design" award and combine modern design with ground-breaking technical details. Sumitomo also
decided in favour of the innovaphone UC client "myPBX", the "UC by innovaphone" solution, and has, as a result, ordered 600 myPBX licenses in Sindelfingen. Sumitomo is especially pleased with the Video functionality: "The innovaphone myPBX video solution is very smart. The user can start a video conference by clicking on the Video icon, a third person can be added to the video conference, if necessary. It is simple and fast to use, in many cases it cuts travel costs and helps to protect the environment", Edward Krüger confirms.
Seamless integration of mobile devices was one crucial factor to be included when designing the new communication infrastructure. "It is not actually possible to be any more flexible than this," Edward Krüger comments with a smile. "Our mobile device management means we can ensure the seamless flow of business processes. And we win on both sides - employee satisfaction and customer satisfaction."
This and other reports about successful installations with innovaphone are available here. Click here for the pdf version of this case study.
---
innovaphone AG
P U R E I P - C O M M U N I C A T I O N S
Böblinger Straße 76 | 71065 Sindelfingen | Germany
Fon: + 49 (7031) 73009 0 | Fax: + 49 (7031) 73009 9
Email: info@innovaphone.com | www.innovaphone.com

Registered Office: Sindelfingen | HRB Nr. 245196 Amtsgericht Stuttgart | Executive Board: Dagmar Geer (Chairman), Carsten Bode, Guntram Diehl, Gerd Hornig | Chairman of the Supervisory Board: Gebhard Michel

We provide information about our developments at irregular intervals. Please click here if you would like to be deleted from the distribution list.

Liability: Although we carefully check contents of external links, we can in no way be liable for the contents of such links. Responsibility for the content of linked sites rests solely with the owners of those sites.

Errors and omissions excepted. Technical specifications and delivery times may be subject to change.
Copyright © 2015 innovaphone® AG

Imprint