News 05/2015 | english
Dear Newsletter reader,
Security and privacy are increasingly important topics in both the commercial and the private sector. In today's edition of our newsletter, we will inform you about the diverse security mechanisms available to you with the innovaphone PBX.
And now, have fun reading!
Secure IP telephony - made in Germany
Currently, analogue and ISDN networks throughout Europe are being switched over to standard Internet Protocol (IP). Thus, end customers and resellers are being forced to look more closely at IP telephony, for which the issue of security also plays an important role. innovaphone, the manufacturer of IP telephony and Unified Communications solutions made in Germany, has a secure solution for this.
The innovaphone PBX has a very wide range of security mechanisms providing the best possible protection against many different kinds of attacks.
Why is the innovaphone PBX particularly secure?
The innovaphone PBX runs on a very lean and fast operating system that has been developed especially. Viruses, worms and Trojans are not known on this operating system.
The different ways of communicating from establishing connections, over voice and data connections to administration and address data access can be controlled via a variety of standardised security protocols.
A special challenge for security is the claim of unlimited communication and mobility. For this purpose, the innovaphone PBX is equipped with the DTLS-SRTP protocol, enabling device-to-device encryption, thus making it especially safe.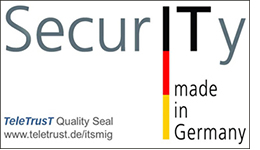 This is one of the reasons why innovaphone is permitted to carry the quality seal "IT security made in Germany" from TeleTrusT, the German IT security association (Bundesverband IT-Sicherheit e.V.). It is awarded exclusively to German IT companies who develop their products in Germany and meet strict criteria on IT security and data protection.
The security mark is a confirmation of many years of development work. As a manufacturer, innovaphone has always implemented all conceivable mechanisms in its products to ensure maximum security. The modular system has all possible security protocols - TLS, HTTPS, H.235, SIPS, H.460.17, SRTP, DTLS-SRTP, LDAP via TLS, IEEE 802.1X, Kerberos and X.509 certificates -, so that the appropriate technical measures can be taken by the person installing the innovaphone PBX.
Version 11 Release 2 is now available!
The second release of Version 11 has been launched, and is available for all users of Version 11 to download free of charge. It can easily be installed over the previous version of 11r1, no new licenses or certifications are necessary.

11r2 is a rather technical release and includes the following highlights:
PBX Wakeup Call
Wakeup Call allows user-specific programming of a call that takes place at a time you set. This can be set once or as standard. It is also possible to store an audio file that is played when the call is answered. Wakeup Call is configured and managed via the normal admin interface of the PBX and can be included in different user interfaces via the SOAP interface as usual.


PBX groups
Pickup groups can be created from users who are logged on to different PBXs. This reduces the load for each PBX. This means that it is even easier to create pickup groups across multiple locations.


OnDemand RTP Recording on the phone
By pressing a function key on the phone, a recording can be started during a phone call. OnDemand RTP Recording is only available with innovaphone Voice Recording.


Pcap2wav - is now also available with G.722


802.1X Proxy Logoff - unplugging a device that is connected behind a phone secured by 802.1X is now recognized and logoff is initiated by the phone.


DNS for NTP and alarms/events - name resolution is now available for even more convenient input so that the IP address no longer has to be entered. This is particularly convenient in the context of IPV6.
Together with the second release of V11, communication on all innovaphone end devices becomes possible via the G.729 codec
G.729 is a voice codec that needs very low bandwidth and is not loss-free. In the past, the codec was mainly used when there was a lack of bandwidth in the Internet. Today, it serves to guarantee compatibility with other devices.
The IP111 telephone and the software telephones for Windows and Android do not have Codec G.729 when supplied. It can be bought as a separately software license (G.729 one-channel license for innovaphone PBX) and is installed on the innovaphone PBX. We recommend a mixed calculation in the project, one license per end device without hardware-integrated G.729 codec. Two G.729 licenses are required for three-party conferencing as one G.729 license is used per voice channel. Please also note: a call over G.729 to end devices without a hardware-integrated G.729 codec can only take place if the innovaphone PBX has sufficient licenses.
Make the most of the opportunity: V11 campaigns
From April 1, save 50% with our "Buy one get one free" campaign. Don't miss this offer!
IP810 Lics included (1 March – 31 May)
Sign up for the campaign and get the IP810 incl. all interface licenses for the special price of 1250 €


Buy one get one free (1 April – 30 June)
Sign up for the campaign and get one UC license free for every one purchased. The offer is limited to 100 purchased UC licenses.


IP111 UC Lic included (1 May – 31 July)
Sign up for the campaign and get either one UC license or 160 SSCs free for every IP111 purchased. This requires that you currently use either a IP110, IP200, IP230 or IP240 device.


Buy myPBX, get Application Sharing (1 June – 31 August)
Sign up for the campaign and get one Application Sharing license free for every myPBX license purchased.
The application form and the terms and conditions can be found here on our website.
Successful Easter egg hunt
Seek and ye shall find!
Thank you very much for taking the time to hunt Easter eggs on our website. The innovaphone Easter Bunny had hidden itself within our website, and after a small "chase" through our website, our Easter Bunny held an Easter surprise in his hands and invited participants to join in a lucky draw.
Congratulations go to Daniel Haidacher, the winner of the Kindle Paperwhite: we hope he and the other winners will have fun with their prizes!
innovaphone in practice: Burgo
Burgo Group opts for "smooth migration" of the innovaphone PBX as it can be integrated into existing heterogeneous infrastructures.
"Cartiere Burgo": a name we've all heard of that became Burgo Group SpA in 2007. Today it is one of Europe's leading producers of coated paper.
"We had reached a situation that was hard to sustain by this time," begins Ivan Nodari, Head of IT for the Burgo Group. "The company's ongoing growth had forced us to manage an extremely diversified ICT infrastructure in general and a telephone infrastructure in particular in which the digital and analogue solutions of many different producers had to coexist, with all the difficulties this entails.". In any case, this diversity was not the only problem to solve: as a company with numerous offices and plants in Italy and abroad, it wanted to be able to lower communication costs by tackling transformation of the infrastructure without jeopardising the investments that had already been made.
To design and implement the new infrastructure, the Burgo Group chose IPway Srl, an innovaphone retailer based in Vicenza. The project, for which IPway was able to rely on the support of EDSlan, an innovaphone distributor.
Simone Frison, CEO of IPway: "The main criticality to overcome involved dealing with an installed set of equipment that was varied but also obsolete, in contrast with the needs the Group had developed: being able to rely on uniform service, increased performance, the integration of landlines and mobile phones, maintenance of certain services such as those related to alarms, high availability and reliability of the system, gradual migration of the infrastructure, and keeping telephone and service costs down. We knew that the innovaphone solution was the right one: open, compliant with standards, secure, powerful and offering excellent value for money."
Once again, innovaphone's concept of "smooth migration" proved to be a winning one. This gradual migration made it possible to incorporate all the devices already present into the infrastructure and use them up to the last minute. As a result, investments in the new IP telephone system were spread out over time and it was possible to exploit existing contracts – such as those for maintenance – to their fullest.
This and other reports about successful installations with innovaphone are available here. Click here for the pdf version of this case study.
---
innovaphone AG
P U R E I P - C O M M U N I C A T I O N S
Böblinger Straße 76 | 71065 Sindelfingen | Germany
Fon: + 49 (7031) 73009 0 | Fax: + 49 (7031) 73009 9
Email: info@innovaphone.com | www.innovaphone.com

Registered Office: Sindelfingen | HRB Nr. 245196 Amtsgericht Stuttgart | Executive Board: Dagmar Geer (Chairman), Carsten Bode, Guntram Diehl, Gerd Hornig | Chairman of the Supervisory Board: Gebhard Michel

We provide information about our developments at irregular intervals. Please click here if you would like to be deleted from the distribution list.

Liability: Although we carefully check contents of external links, we can in no way be liable for the contents of such links. Responsibility for the content of linked sites rests solely with the owners of those sites.

Errors and omissions excepted. Technical specifications and delivery times may be subject to change.
Copyright © 2015 innovaphone® AG

Imprint