News 05/2016 | english
Dear Newsletter reader,
| | |
| --- | --- |
| | The innovaphone product catalogue 2016/2017 is now available in more languages: |
| | |
| --- | --- |
| Have you already seen our "innovaphone: IP Telephony & UC" Flyer? Read it and find out 10 reasons that speak in favour of innovaphone. Now available in all of our web languages. | |
Please note: Our IP232 (from HW1301) and the extension module IP2X2-X (from HW402) are now produced with a touch panel that only works with the current firmware (v12r1 / v11r2sr10 / v11r1eol). This information is also available in our Wiki.
Enjoy reading the innovaphone May newsletter.
Name the fish | #namethefish – Vote for your favourite name now!
The second round of #namethefish!
We have received more than 250 entries in the first round of #namethefish. We are astounded by this active participation. Thank you very much for the name suggestions!
The innovaphone jury put on its thinking cap for quite some time before reaching a short list. These entries will now compete in the final heat of finding the best name for the innovaphone goldfish.
The second phase is about to begin: the final voting. Which name will our goldfish carry in the future?
It is up to you! Cast your vote before 31 May 2016 and give the innovaphone goldfish at the ripe old age of almost 18 a name!
The innovaphone "Call Me Button" - direct customer contact at the click of a button
The innovaphone "Call Me Button" consists of free Java scripts, which can easily be incorporated into each company's website. The button can be placed either at the edge of the website or like a business card directly on the website and gives visitors to the website the possibility of contacting their chosen person at the click of a button via a call, video call or via e-mail.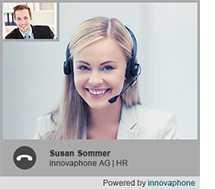 Thanks to the modern WebRTC technology used by the innovaphone "Call Me Button", contact can be made any time, any place. It is really easy to integrate the innovaphone "Call Me Button" into the website - and is possible even if you aren't yet using an innovaphone PBX.
With the "Call Me Button", visitors to a website see at a glance whether the desired contact person is available or not. If someone is browsing the website and a question arises that the website doesn't answer, the "Call Me Button" provides the possibility of having immediate contact to the prospective customer. This turns prospective customers into real customers.
innovaphone Specials 2016 - "Call Me Button"promotional campaign
Would you like to use the innovaphone "Call Me Button" on your website and turn prospective customers into real customers? If yes, then we have the right campaign for you!
Use the innovaphone "Call Me Button" promotional campaign in our innovaphone Specials 2016 and pick up your worry-free package!
When purchasing an innovaphone gateway (IP311, IP411, IP0011, IP811, IP3011, IP6010), innovaphone end customers are given the licence required for operating the "Call Me Button" for free (port licence, UC licence and WebRTC licence). You don't have an innovaphone PBX? No problem: This bundle even enables users of third-party PBX systems to benefit directly from the advantages of an innovaphone WebRTC solution.
Contact data integration for myPBX: C4B is a new innovaphone technology partner
C4B Com For Business stands for modern communication solutions that can be integrated seamlessly into application environments. With "XPhone Connect", C4B provides a stand-alone UC platform that can be used at the same time as an extension solution for existing UC applications.
Using XPhone as an extension solution, almost all data sources can be connected both to the myPBX client and to innovaphone IP telephones.
Private Outlook files, ERP and CRM systems, the German phone book: all contacts are available via a flexible free text search function. The data is also used to provide reliable caller identification.
In a 30-minute webcast, C4B presents all of the functionalities and shows you how to connect data sources in just a few steps via drag & drop.
Webcast
Flyer
Changes concerning the innovaphone extemsion module IP2X2-X


The price for the IP2X2-X was lowered by 25 euro on 1 November 2015 and the extension module is supplied without a base (and cables). In future, these have to be ordered separately. The base is supplied with a cable and costs 25 euro, the base for two extension modules costs 50 euro. Thus, there is no change to the overall costs.
Please note that we will supply the old extension module while stocks last with the slim base, but at the reduced price.
The following prices have applied since 1 November 2015:
01-002X2-001 extension module for IP222 and IP232 (black) telephone without base 175 euro
01-002X2-002 extension module for IP222 and IP232 (white) telephone without base 195 euro
03-002X2-001 base long IP2x2-X for one IP222 or IP232 phone with one extension module 25 euro
03-002X2-002 base long IP2x2-X for one IP222 or IP232 phone with two extension module 50 euro
Please note these are the recommended end customer prices in euro excluding statutory VAT. List prices can vary in different countries depending on the distributor and currency.
Do you want to become an innovaphone partner?
Then benefit from our 2016 innovaphone reseller campaign Inhouse Lics 4U
iAS/iAR partners who are certified by 30 September 2016 receive all in-house licenses (PBX, UC, applications, HW Lics) free of charge.
innovaphone in practice: AMB Sécurité
AMB Sécurité Sàrl places its trust in VoIP solution by innovaphone, the Unifi ed Communications specialist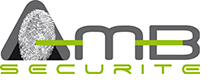 AMB Sécurité deals with the protection of people and property. It provides extensive alarm systems, video surveillance, access control as well as qualified security guards. Most Swiss companies, including AMB Sécurité Sàrl, are faced with the challenge of installing a new telephone infrastructure as the Swiss ISDN network will be switched off at the latest in 2017.
"The collaboration with innovaphone went really well, especially concerning the project management by innovaphone Presales. They were very vigilant when dealing with security and especially piracy. A firewall was installed as was a QoS application (Quality of Service) in order to prioritise voice and thus guarantee perfect voice quality." Vincent Volpato, project manager at IT-PLN.
"The fact that Switzerland is completely changing over to All IP by 2017 has actually worked out for us: All requirements in the system specification have been fulfilled. Both management and staff members are very satisfied with the new solution that has reduced calling costs by 50% - thanks to the multi-provider SIP trunk management. This means that calls that come from abroad can be dealt with transparently using an alternative provider. IT-PLN has created different scenarios based on the different countries' prefixes in order to automatically select the cheapest provider. Administration and maintenance are now more unified, easier and less expensive. Marcio Allemand summarises: "We have shifted strongly towards Unified Communications and are available around the clock seven days a week with maximum security."
The whole report and other reports about successful installations with innovaphone are available here. You can also download the pdf version of this case study.
---
innovaphone AG
P U R E I P - C O M M U N I C A T I O N S
Böblinger Straße 76 | 71065 Sindelfingen | Germany
Fon: + 49 (7031) 73009 0 | Fax: + 49 (7031) 73009 9
Email: info@innovaphone.com | www.innovaphone.com

Registered Office: Sindelfingen | HRB Nr. 245196 Amtsgericht Stuttgart | Executive Board: Dagmar Geer (Chairman), Carsten Bode, Guntram Diehl, Gerd Hornig | Chairman of the Supervisory Board: Gebhard Michel

We provide information about our developments at irregular intervals. Please click here if you would like to be deleted from the distribution list.

Liability: Although we carefully check contents of external links, we can in no way be liable for the contents of such links. Responsibility for the content of linked sites rests solely with the owners of those sites.

Errors and omissions excepted. Technical specifications and delivery times may be subject to change.
Copyright © 2016 innovaphone® AG

Imprint