News 08/2016 | english
Dear Newsletter reader,
There is no quiet summer period in sight at innovaphone as the firmware V12r1 became available on July 11. In today's newsletter we will be introducing interesting facts related to V12 and innovaphone. As you can see for yourselves - the innovaphone wheel never stands still! :)
Did you know?
myPBX for iOS is now available for free in the app store and in iTunes. The app includes a Software phone that can be used for phone calls over IP. Wi-fi is used to make phone calls or GSM, the mobile network, as a fallback. Private contacts can also be called via the app. To use the app, the user must be logged on to the innovaphone PBX with at least one port license and one myPBX license.
And now have fun reading our August newsletter!
Please note: end of support for firmware versions up to and including V9
With the release of V12, the support of versions up to and including V9 will cease. This also includes Linux 1. Our Development department will not continue to work on it and will no longer resolve errors. If you should have any questions regarding one of the affected versions, we will of course answer them.
The IP24 is being replaced by the IP29-4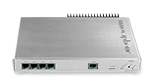 Our IP24 analogue adapter is no longer available effective immediately. The IP29-4 is also an analogue adapter with four analogue interfaces, but also additionally makes use of the Opus voice codec. This provides HD voice quality at low bandwidth. There is no change to the list price for the analogue adapter with four analogue interfaces (Order number: 01-00029-004; 435.00 Euro). The IP29-4 needs no external 40 V power supply (order number: 03-00010-226).
The V12 firmware requires more memory than previous versions
The new firmware V12 contains more features than the previous versions and therefore requires more memory. Compared with the 11r2 firmware, the first V12 release requires an additional 1.5 MB RAM and 0.8 MB flash memory. Regarding the older IP30x gateways (hardware build 306 or below with 16 MB RAM), it is possible that the memory capacity won't suffice for certain configurations. This applies to both RAM and flash memory.
innovaphone recommends the following procedure for the upgrade to V12r1:
Backup all existing configurations
Reset the device to factory settings
Upload the configuration back-up that you have just done (this reorganises the Flash memory usage)
Upload the new firmware
If there is not sufficient memory, an error message appears.
As the new innovaphone gateways are much more powerful and modern, we recommend that old gateways are replaced by new ones, for example, an IP411 (list price: 450 Euro). Alternatively, it is also possible to exchange the old IP302 and IP305 with 16MB RAM for the net price of 110 Euro plus shipping. Use the RMA process to send in the product with the remark "Old for new promotion for IP302 and IP305" and the memory will be upgraded.
Further information about the upgrade from V11r2 to V12r1 can be found in the innovaphone Wiki.
Price increase for the IP150
The list prices for the IP150 phones are being increased as of 1 September 2016. Th old price is valid for orders that reach us by 31 August 2016. The new prices as of 1 September 2016 are listed below:

Please note these are the recommended end customer prices in euro excluding statutory VAT. List prices can vary in different countries depending on the distributor and currency.
#mobiontour | Mobi has got the travel bug!
Barcelona, Tokyo, Peru - our goldfish Mobi has already been there!
Thank you for your photos. But Mobi still hasn't had enough! Send Mobi around the world and post your favourite Mobi picture either on our Facebook page, with the Hashtag #mobiontour, or simply upload your picture to Twitter, Instagram or Google with + #mobiontour.
You will see your MOBI picture on our social media wall see all the places Mobi has been to.
You still don't have Mobi, who can travel with you?
Just write us a message with with the subject line "mobiontour" and your address and send it to marketing@innovaphone.com. We will send you our cuddly Mobi.
Last chance: innovaphone specials 2016
| | |
| --- | --- |
| | We have not yet presented one campaign. Save a fabulous 50% with the "Buy one get one free" campaign! For every UC license purchased in the promotional period, innovaphone will give you another UC license absolutely free of charge. The aim of our special is to provide every innovaphone customer with a simple and cost-effective entry into the world of UC. The maximum number of free UC licenses in this campaign is limited to 100. |
Last chance: Inhouse Lics 4U campaign
Do you want to become an innovaphone partner? Then benefit from our 2016 innovaphone reseller campaign In-house Lics 4U (only until the end of September).
iAS/iAR partners who are certified by 30 September 2016 receive all in-house licenses (PBX, UC, applications, HW Lics) free of charge.
---
innovaphone AG
P U R E I P - C O M M U N I C A T I O N S
Böblinger Straße 76 | 71065 Sindelfingen | Germany
Fon: + 49 (7031) 73009 0 | Fax: + 49 (7031) 73009 9
Email: info@innovaphone.com | www.innovaphone.com

Registered Office: Sindelfingen | HRB Nr. 245196 Amtsgericht Stuttgart | Executive Board: Dagmar Geer (Chairman), Carsten Bode, Guntram Diehl, Gerd Hornig | Chairman of the Supervisory Board: Gebhard Michel

We provide information about our developments at irregular intervals. Please click here if you would like to be deleted from the distribution list.

Liability: Although we carefully check contents of external links, we can in no way be liable for the contents of such links. Responsibility for the content of linked sites rests solely with the owners of those sites.

Errors and omissions excepted. Technical specifications and delivery times may be subject to change.
Copyright © 2016 innovaphone® AG

Imprint