News 04/2017 | english
Dear Newsletter reader,
Would you like to stay up to date and read about innovaphone news via channels other than our newsletter? Then follow us on Twitter. :)

And now have fun with our April newsletter!
Two IP DECT product innovations at innovaphone: IP64 & IP65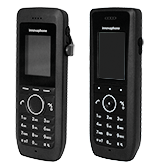 innovaphone's product range has two new DECT phones. IP64 and IP65. The modern look, excellent voice quality and long battery runtime make the IP DECT phones stand out. The IP65 also has Bluetooth. We have compared the new IP DECT phones with our old IP DECT phones for you. You can download the PDF file here.
Although DECT technology is no longer a state-of-the-art technology, it still provides a reliable and cost-effective alternative for communication within your own building with a high number of employees e.g. in hospitals or in production and storage facilities.
In contrast to smartphones with wifi access, professional DECT phones are perfectly suited for exactly this kind of use and aren't overloaded with unnecessary functions. The DECT standard is primarily optimised for smooth transmission of voice, thus guaranteeing excellent voice quality. With the IP1202 IP DECT base station, you can perfectly integrate the new innovaphone end devices into your IP phone system.
innovaphone in practice: Olympia Metropolitana
Teatro Olympia is a subsidiary of Olympia Metropolitana S.A., whose principal area of business includes the operation and management of theatre halls. Besides Teatro Olympia, the company Olympia Metropolitana S.A. is responsible for managing various community premises in Valencia, including the Teatre Talia, the auditoriums in Torrent and Vall de Uxo, the Palau Altea theatre and the theatre auditorium in Catarroja.
Dating back to 1915, the imposing Teatro Olympia building was constructed on the grounds of a former abbey. This historical building is now equipped with forward-looking IP technology from the German manufacturer, innovaphone. During the fi rst 4 years, the new solution from innovaphone brought savings in excess of EUR 1,500 per year and more than EUR 3,000 from year 5.
The complete case study and other reports on successful installations with innovaphone can be found here. You can download this case study as a PDF.
---
innovaphone AG
P U R E I P - C O M M U N I C A T I O N S
Böblinger Straße 76 | 71065 Sindelfingen | Germany
Fon: + 49 (7031) 73009 0 | Fax: + 49 (7031) 73009 9
Email: info@innovaphone.com | www.innovaphone.com

Registered Office: Sindelfingen | HRB Nr. 245196 Amtsgericht Stuttgart | Executive Board: Dagmar Geer (Chairman), Carsten Bode, Guntram Diehl, Gerd Hornig | Chairman of the Supervisory Board: Gebhard Michel

We provide information about our developments at irregular intervals. Please click here if you would like to be deleted from the distribution list.

Liability: Although we carefully check contents of external links, we can in no way be liable for the contents of such links. Responsibility for the content of linked sites rests solely with the owners of those sites.

Errors and omissions excepted. Technical specifications and delivery times may be subject to change.
Copyright © 2017 innovaphone® AG

Imprint