Newsletter 01/2013
Dear newsletter readers,
we hope you have had a good start to the New Year and wish you health, happiness and success for 2013.
We have already started our CeBIT Countdown and are looking forward to greeting you from March 5th -9th 2013 in Hanover. You can find us in hall 13, stand C34, we would love to show you live demonstrations of our innovations in Voice over IP and Unified Communications. Contact us today to get your personal CeBIT appointment and an entrance ticket. Just click here.
Don't forget that the IP230 will soon be discontinued. It hasn't been included in our product catalogue for some time, but was still available for on-going projects. This will change: Last-Time-Buy on 31 March 2013. We guarantee that we will deliver all orders that reach us by close of business on the 31 March.

In case you need a new year's resolution for 2013, we have the perfect idea. How about participating in the Basic Training course from April 9th to 12th 2013 in Sindelfingen (English)? The current training course dates can be found here.
And now, please sit back and enjoy our first newsletter of 2013!
Presence… How and why?
It is obvious what Presence literally means, and in a technological sense it is something that enables a user's current status to be determined by a computer or a terminal etc. Furthermore, Presence is considered to be an important part of "Unified Communications". So if you want to understand what Presence can actually be used for, it is firstly necessary to understand the meaning of "Unified Communications" – abbreviated "UC".
Companies are increasingly shouting out loud for Unified Communications because poor communication structures and reachability cost them a lot of money and waste immense amounts of time. Employees are increasingly working together as teams or in project groups and need to exchange lots of information in the shortest possible time. Distance is another problem in large companies as not all employees are necessarily based at the same location. Furthermore, the flood of new media and devices that are on the market means that there is an increasing number of ways to communicate, but this does not necessarily go hand-in-hand with improving availability.
Unified Communications is getting to these problems, and various UC building blocks enable us to create an integrated communication infrastructure, improving employee reachability, speeding up processes and thus increasing efficiency. The Presence functionality is one of these building blocks.
Have you counted the number of times you have called a colleague to find his line occupied, or there has been no answer because he was away on business or at meetings? How many times have you sent an important email and not received a reply? The Presence functionality pursues the goal of firstly finding out the status of a colleague's availability, then selecting the correct way of communicating with him - saving time and unnecessary frustration. Presence icons and notes make this possible by indicating or describing the subscriber's presence information. So by looking at the subscriber's presence information and seeing that the colleague in question is currently in a meeting means you know, there is no point calling him. If someone has set his presence status to "Do not disturb", then you know calling or chatting is not the right solution and you can look to find an alternative person for the information. If a colleague is on the phone but at his desk, you know it could make sense to request a call-back over the chat function.
If Presence is used correctly in daily work, it allows fast and direct communication with colleagues avoiding searches, questions, call forwarding, listening to messages and calls going backward and forward. The following newsletter article gives a quick insight to the innovaphone Presence solution. Thanks to the new Microsoft Office integration, information channels will be even shorter and better in the future.
New Presence functionality with the Microsoft Office integration by innovaphone
All Presence information is available at a glance - thanks to the new Microsoft Office integration by innovaphone. It gives a perfect overview of who is busy, away or available as it brings the various presence information sources together under the innovaphone Unified Communications Client myPBX and shows them in all Microsoft Office applications. The presence set in the PBX using myPBX or the telephone is relevant here, as are all entries in the Outlook calendar.
The MS Office 2010 integration works in two directions: on the one hand personal calendar entries are processed by the Exchange Calendar Connector for the myPBX Presence information and are indicated accordingly with a presence icon. So, if someone is currently at a meeting, this is indicated by the presence icon "Busy". The current calendar entry is also added as a presence note. If a myPBX contact is marked as "available", but has a meeting in the next 36 hours, this is also added as a Presence note (e.g. available until 5.30pm, telephone conference XY). The Busy or Away status are also dealt with in a similar way. The Presence note shows from when someone will be available again. (e.g. Busy/Away – available at 2pm). This period can be configured as needed.
On the other hand, all Presence information flows into Office applications - both information from your Outlook calendar and presence status set from myPBX or your telephone. For example, if you write an email in Outlook and include a recipient, his availability is displayed with bubbles (green = present, yellow = away, red = Busy, etc). If you click on it, the presence note is also shown. You then have the possibility of starting a myPBX chat directly from the Outlook information window, or of calling this person on the phone.
In addition to an innovaphone PBX version 10, the innovaphone UC client myPBX is needed for the Microsoft Office integration. MyPBX is needed for all users who would like to benefit from this extended Presence functionality. Moreover, you need the Microsoft Exchange Server 2010, Microsoft Office 2010 and a Linux Application Platform.
innovaphone in practise: Amserv
Amserv is the biggest car retail and service company in Estonia and Latvia, employing 480 people. (…) Amserv has 14 showrooms in Estonia and Latvia, representing the following car makes: Toyota, Opel, Chevrolet, Hyundai, Peugeot, Lexus and Saab. Favouring the innovaphone Virtual Appliance (IPVA) and the innovaphone IP-DECT solution, Amserv has now decided to go for a complete innovaphone telephony system in their company.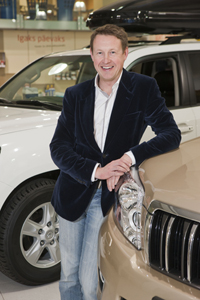 The telephony infrastructure within the Amserv organisation was similar to that of many other companies: with a multitude of different telephony systems in different locations, among them old PBXs (Private Branch Exchange), Centrex, POTS lines (Plain old telephone service) and others. The organisation had neither a simple number plan nor modern applications such as short dialling, central management and statistics. Therefore, one of the main requirements was to obtain one common system for all branch offices and showrooms around Estonia. (…)
In a first step, an innovaphone media gateway IP1060 was installed in the Amserv headquarters in Tallinn to migrate the existing old PBX into the new system and to avoid major changes in the system "over night". The IP1060 serves as a base for the innovaphone Virtual Appliance (IPVA). Vmware enables several virtual servers with a variable number of entities to be managed centrally. (…)
The next step into IP-telephony was to install an innovaphone PBX running on a VoIP gateway IP800 with BRI lines (Basic Rate Interface) in another branch office in Tallinn. (…) Existing DECT phones are integrated into the system using IP1200s as DECT system platforms. As far as desk phones are concerned, innovaphone IP110, IP230 and IP222 phones are used on company premises. In addition, some Amserv employees use software phones with myPBX, the Unified Communications Client. (…)
This and other reports about successful installations with innovaphone are available here. Click here for the pdf version of this case study.