2019-10-24 | Newsticker
funkschau Readers' Choice 2019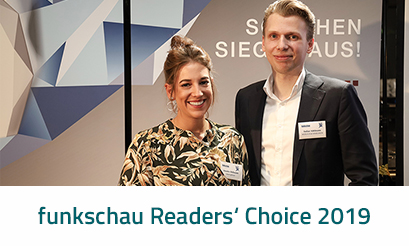 A big thank you from innovaphone. Thanks to all your votes and support, we received 2nd place for "ICT products of the year 2019" with our innovaphone PBX, in the category telecommunications systems for large enterprises. The awards were officially presented on October 10th, 2019, at the picturesque lake house in the English Garden, Munich. All the guests spent an unforgettable evening with wonderful food, great conversations and in most pleasant atmosphere. One of our marketing managers, Jennifer Bößmann, was among the guests and proudly accepted our trophy. We are very grateful for all your votes and do hope to participate again next year.
2019-09-11 | Newsticker
We cordially invite you to our very first innovaphone in-house fair taking place in Sindelfingen, Germany, on November 13th & 14th, 2019.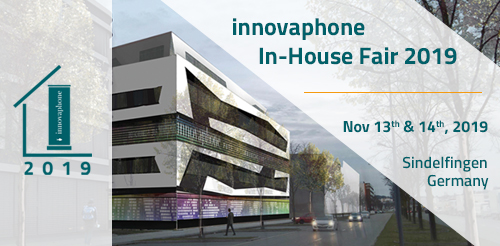 Talk to our technology partners and visit their exhibition stands. Gain valuable insight and thoughts from presentations and keynotes held by innovaphone and select partners.
What you can expect:
Exhibition stands on products and solutions by our technology partners
Various presentations and keynotes by innovaphone
Various presentations and keynotes by select partners
Evening event for networking with the opportunity of getting to know each other
Please click here for further information.
Please click here to register.
Please note: The program, presentations and sessions will be identical on both days of the fair. We will begin with a plenary session in the morning, followed by various workshops and sessions held in parallel and spread over the day. Of course, you are cordially invited to attend our in-house exhibition on both days in order to be able to participate in as many different sessions as possible.
Please note: The event will be taking place in the languages German and English. Admission is free of charge.
We cordially invite you and look forward to your attendance.
2019-07-22 | Newsticker
Cooperation with Cradle to Cradle e.V.
The C2CLAB is the world's first comprehensive building refurbishment using Cradle to Cradle criteria. The Cradle to Cradle eV is based in Berlin and a driving force regarding quality and innovation when it comes to setting new standards for healthy and viable innovations with a positive ecological footprint. The C2CLAB brings together C2C changemakers and accelerates the transition towards a C2C future.

We are very pleased to support this project of Cradle to Cradle e.V.
2019-07-02 | Newsticker
"App, App, Hooray!" – 2nd innovaphone App Developer Workshop in Sindelfingen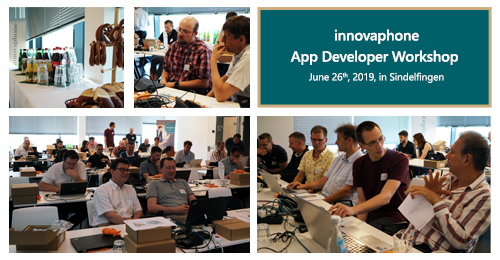 Roughly one month after the premiere on May 26th, 2019, the 2nd App Developer Workshop took place in Sindelfingen.
Here is some feedback of two participants:
"What I found particularly interesting was to get an understanding of the overall context. The workshop effectively presents the available components and how these interact with each other. As an introduction to app development, this was extremely useful."
Timo Richter, CEO at Infoso GmbH
"I thought the workshop was rather exciting. What made the workshop great was the combination of a bit of theory and a lot of hands-on practice. The participants have definitely received some valuable insight. Keep it up!"
Patrick Näf, owner of Keldano AG
We would like to say thank you to all the participants of our 2nd App Developer Workshop. Once again, you brought along some great ideas and we really look forward to the new apps being available on our new platform.
2019-05-27 | Newsticker
"App, App, Hooray" - innovaphone App Developer Workshop in Sindelfingen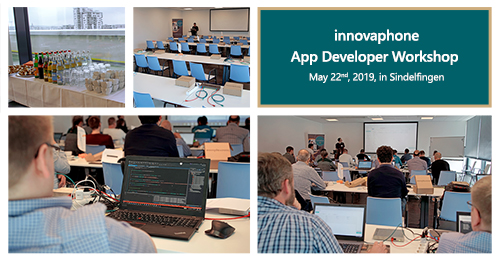 On May 22nd, 2019, we opened the doors of our brand-new innovaphone headquarters in Sindelfingen and invited to the very first App Developer Workshop. Based on the feedback of our participants, we can say: despite some initial issues with the network, the event turned out to be a full success!
Following the motto "from developers for developers", creative minds coming from the field of C++ and Java Script received a first impression of the innovaphone App Platform with all its versatile possibilities. After a short introduction of the concept of innovaphone myApps and its general structure of the myApps platform architecture, participants joined in and started programming their own apps. The workshop instructors were always available for questions, gave assistance where needed and answered all individual questions. The app ideas of the participants were either discussed among the group or individually, and ideas on implementation were given to the participants. We really look forward to the first 3rd party apps that will be available on our new platform.
After all the brainwork, we thoroughly enjoyed a relaxed evening with pizza and cold drinks.
We are already planning the next App Developer Workshop and the invitations will soon be sent. Please keep in mind that the number of participants will also be limited for our next workshop – so, it will pay off to be fast: register as soon as you have received your invitation.
2019-05-17 | Newsticker
End of Support for V10 with Release of V13
Please note: the support for innovaphone Software Version 10 will be discontinued with immediate effect. Please contact your certified innovaphone Partner to receive more information on discontinued products.
2019-05-16 | Newsticker
All New: the innovaphone Product Catalog 2019/2020 is Now Available!
Right on time with the release of V13, we are pleased to announce our new product catalog.
Take a look at our IP phones, VoIP gateways, wireless solutions and analog adapters, in addition to all the innovations that come with V13. Discover our universal work and communications platform myApps and see how myApps combined with our IP telephone system and UC solution enable an entirely new dimension of working and communicating.
Enjoy the read!
Download the product catalog free of charge here
2019-05-13 | Newsticker
innovaphone Release V13 - from Vision to Product
It is here at last! Together with our development team we have thoroughly enjoyed watching how our new product has continued to improve. Now we are pleased to announce our release of the new innovaphone V13 on 13 May 2019.
With the innovaphone V13, we are launching myApps, our new universal work and communications environment, which includes a large number of apps for communication, work and administration. All of the important tools that are needed to conveniently complete a day's work are available in one uniform interface.
Users and administrators of our innovaphone PBX draw lots of benefits from myApps: The myApps Communications Client makes it easy for them to create users, upload profile pictures, set Presence, manage call diversions, chat, add new phones to their profile, configure the PBX and much more.
The modularity, modern browser technologies and the responsive design mean that myApps is incredibly flexible and available on any device - on smartphones, laptops, tablets or desktop computers.
And the best thing about it - the myApps Communications Client is available free of charge with every innovaphone PBX!
Enjoy the new innovaphone V13!
2019-04-25 | Newsticker
Test innovaphone Beta 13r1
Our V13 Beta is constantly being enhanced and new features, apps etc. are being added. Stay up to date as one of our Beta testers, we look forward to your feedback!
Simply download our Beta from our innovaphone App Store and get started straight away:
We have set up following e-mail accounts for your feedback and suggestions:
For further information, please go to our Wiki:
We hope you have a lot of fun testing!
2019-04-04 | Newsticker
Girl's Day 2019 at innovaphone
This year, innovaphone AG participated once again at the annual "Girl's Day". Five girls visited us, curious to see what happens behind the scenes. After a tour through our company headquarters and a short introduction, the girls got started straight away and collected first impressions in the area of website programming.
The students learned step by step how to create a small homepage, including HTML, CSS and JavaScript functions. It was a lot of fun and the results were quite impressive.
2019-01-28 | Newsticker
innovaphone Headquarters will be Moving on February 8th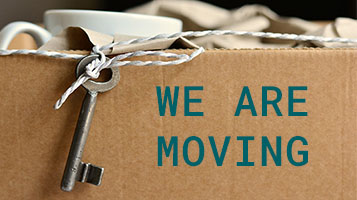 We are happy to announce that our innovaphone company headquarters will be moving to Umberto-Nobile-Str. 15, 71063 Sindelfingen, Germany, on February 8th. Please note that our colleagues located in Sindelfingen will be busy unpacking and setting everything up so that your personal contacts at our headquarters may only be partially available on this day.
Further, please also note that no deliveries will take place between February 6th and February 8th.