Newsletter 09/2015
Dear Newsletter reader,
Would you like to know how easily you can use myPBX on your iPhone? We'll show you in this newsletter.
And now, have fun reading!
Using innovaphone on iPhones with myPBX mobile
myPBX mobile is the solution for all smartphones and tablets to be integrated perfectly in the innovaphone PBX. Your mobile device turns into an innovaphone device.
myPBX, the Unified Communications client on the innovaphone PBX can be used as a web application on all browsers and operating systems. This is also the case for mobile browsers and operating systems including Safari and iOS. myPBX mobile needs no installation and can be started directly in your browser. The PBX administrator gives you the corresponding link.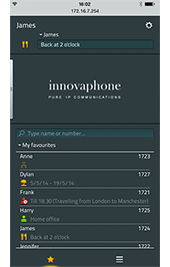 Do you want to be able to edit your Presence whilst out of the office? You can do with myPBX mobile. Many functionalities of the Unified Communications client myPBX can also be used with myPBX mobile, e.g. chatting. You can also see and manage your Favorites. myPBX mobile gives you access to all innovaphone PBX contacts stored centrally.
The One-Number concept, which also bears fruit with myPBX mobile, ensures you can always be reached under your office extension number while on the road. When you make calls using your iPhone, the other party only sees your office extension number.
Your call lists update simultaneously on your smartphone, your myPBX client and desk phone. Accept a call using your iPhone and your Presence status is shown as "busy".
Would you like to know more about myPBX mobile? Download the flyer "myPBX mobile - the innovaphone solution for all mobile devices" here.
funkschau readers' choice 2015: give innovaphone your vote!
Once again this year, the German specialist magazine funkschau is searching for the best ICT product of the year 2015. funkschau is the specialist magazine in Germany spanning the industries of voice, wireless, system integrators, carriers and providers as well as measurement technology and the medium for professional communication technology. Last year we were the proud winners of a funkschau cup for our innovaphone PBX in the category IP PBX for large-scale companies (IP-TK-Anlagen für große Unternehmen). We would like to win this cup again this year. And we need your help to do this! :-)
The voting is in German, but it would be fantastic if our partners abroad could also support us. We will guide you through the German voting labyrinth :-)
We are candidates in three different categories:
with our design telephones IP222/IP232 in the category Desktop /DECT telephones (German: Kategorie Desktop-/Dect-Telefone)
with Unified Communications by innovaphone in the category Unified Communications & Collaboration
with our innovaphone PBX in the category IP PBX for large-scale companies (German: Kategorie IP-TK-Anlagen für große Unternehmen).
So ready, steady, go and don't forget: please vote three times for innovaphone!
Many thanks in advance. We are hoping for lots of votes!
Click here to go to the vote! It is on-line until 04 October 2015.
innovaphone in practice: Pankl Racing Systems
Pankl Racing Systems opts for a unified communications solution by innovaphone
The Austrian company, Pankl Racing Systems, is specialized in developing and manufacturing engine and drivetrain components for racing cars, high performance vehicles and the aerospace industry. Whenever a Formula 1 car starts in Monaco or Monza, it will very probably entail components from the Austrian racing specialist.
With a total of about 1,400 employees in 8 global locations, Pankl Racing Systems is one of the most important employers in the Austrian town of Kapfenberg. The company recently secured a larger piece of land for future expansions close to the current site in Kapfenberg. It was desperately necessary to replace the PBX from Alcatel that had been used for company communication in Bruck and Kapfenberg for some 15 years.
"We favoured an innovaphone solution because, in our opinion, it fulfilled the requirements of Pankl perfectly." explains Michael Ofner, Manager IT at Pankl Racing Systems. After a three-month test installation in one of the company's departments, the final decision was made in favour of an innovaphone PBX - and against the solutions of two well-known competitors.
All-in-all a total of 500 extensions were connected to the new system at the two sites in Kapfenberg and Bruck, about half of which via DECT. The innovaphone IP232 design telephone was the desk-top phone used. Staff also have access to the ESTOS ProCall software as an addition to the IP232 devices. This allows subscribers to dial from the computer and to integrate own contacts from Outlook. Pankl staff are managing well with the new phones. Michael Ofner reports: "Not only is voice quality on the innovaphone telephones excellent, the staff is delighted with the usability; the design is perfect." Another aspect of the innovaphone PBX was well liked at Pankl: "The VoIP gateways and IP phones have hardly any time out when rebooting", says Günter Prasshofer. The reason for this is that the innovaphone PBX runs on a very lean and fast operating system that has been developed especially.
This and other reports about successful installations with innovaphone are available here. Click here for the pdf version of this case study.