Newsletter 06/2017
Dear Newsletter reader,
with innovaphone Conferencing, you can communicate with your colleagues across countries and across different locations – also via Video Conference and Application Sharing. This follows the principle of "the workplace 4.0". Continue reading to learn more about innovaphone Conferencing and the new innovaphone Conferencing App.
Did you know?
Our licensing guidelines have been updated with the release of Software Version 12r2 – effective from June 1st, 2017.
your innovaphone team
innovaphone Conferencing – Brief Overview
For larger phone or video conferences, you can use innovaphone Conferencing. A new feature of V12r1 were the video conferences, from V12r2 onwards, the Conferencing App with a convenient user interface for innovaphone Conferencing will be available.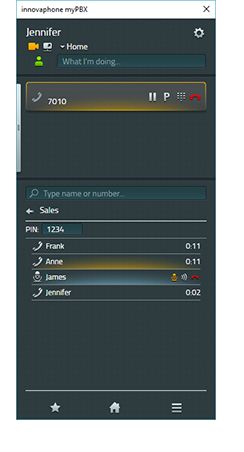 NEW – innovaphone's Conferencing App
The Conferencing App is integrated into the Unified Communications client myPBX. This app with an easy and structured user interface allows the administrator of the conference to manage virtual conference rooms with one simple click, including the allocation of flexible dial-in pins and certain monitoring options. With the myPBX client, the conference administrator can check at a glance which participant is present at which conference and who is currently speaking. The administrator also has the option to "mute" participants.
Every single user who wants to operate the conference rooms conveniently via app needs his own license for the Conferencing App. An unlimited number of conference rooms can be managed with one license. Please read our licensing guidelines for more information.

Order number: 02-00050-001
The Conferencing Solution by innovaphone
Conference rooms with up to 60 participants can be set up depending on the innovaphone gateway in use. The number of possible conference participants is defined by the available and reserved number of DSP channels on the innovaphone VoIP gateways (IP6010, IP811, IP3011 and IP1130). These are activated via hardware licenses.
Conference rooms can be set up easily and quickly with the Conference object. In this Conference object, the administrator can make adjustments concerning authorisations, PINs, names of conference rooms and other settings. One of these settings may be the authorisation of Application Sharing within the conference room. The name of the conference room determines how it is displayed in myPBX. Additionally, ad-hoc conference rooms can be set up via the operator function of the Conference object. The first participant creates a room. Announcements guide through the menu. Once the last attending participant hangs up and leaves the conference, the room is automatically deleted.
With innovaphone Conferencing, users have the choice between audio and video conferences. Application Sharing is possible with both. If participants dial into a conference with the correct PIN, Application Sharing opens up instantly. This also enables an easy set-up and easy operation of webinars. For all conferences, Application Sharing in combination with Video is now also possible with external participants via WebRTC. These participants benefit particularly from the new technology WebRTC.
Video Conferencing and the Conferencing App both have voice recognition: if a conference with several participants using Video telephony is set up, the visible participant is always the one currently speaking.
One special form of the telephone conference is the ad-hoc Broadcast Conference. A group of participants from the innovaphone PBX will be called via a special broadcast number. The call from this number is distributed to the participants of the group. Those participants who answer the call are automatically part of the telephone conference. The Broadcast Conferences offer a quick and effective way of exchanging information for regular telephone conferences with fixed participants.
A selection of professional announcements for the conference menu are available for telephone or video conferences. The admin integrates them via language files. These announcements easily guide every conference participant through the menu. Announcements for telephone or video conferences can be downloaded free of charge, and the languages available are German, English, French and Italian. Further announcements in different languages can be created individually and independently anytime. It is also possible to convert announcements with common audio formats into the necessary announcement format with the innovaphone Audio Converter.
Gateway Upgrade Promotion 2017 – Fit for the future?
IP6000, IP2000, IP800, IP305 or IP302 – Do you own one of these gateways? innovaphone PBX has outgrown these gateways with all the new features of 12r2. More space is needed than could be provided by these gateways. That is why innovaphone PBX cannot be operated on these gateways from Version 12r2 onward.
Simultaneously to our release of Version 12r2, we are starting the suitable promotion for you:
The Gateway Upgrade Promotion
Existing customers can now upgrade to current innovaphone hardware platforms (IPxx11) with attractive conditions. This promotion runs until September 30th, 2017. More detailed information concerning the promotion is provided under following link:
https://www.innovaphone.com/en/services/gateway-upgrade-promotion.html
innovaphone in practice: "New Regional Hospital" in Wroclaw
The company "New Regional Hospital Ltd." ("Nowy Szpital Wojewódzki "Sp. z o.o.) founded by the local government was responsible for the construction of the regional hospital and is now in charge of its administration. The new hospital is a very modern health centre consisting of 20 medical practices and 16 wards spread across 5 stories, with a total capacity of 550 patients. Approximately 1000 employees work in the hospital.
The company "Nowy Szpital Wojewódzki " had high demands for its communication infrastructure. The new system was expected to ensure stable operation, high availability and a sophisticated concept of redundancy for optimal security in case of failure. Many IP and UC solutions were scrutinised. innovaphone AG, the specialist for professional business communication from Sindelfingen, participated in a public tender. After thorough evaluation of all communication solutions offered, the final decision was made in favour of innovaphone's PBX system.
The complete case study and other reports on successful installations with innovaphone can be found here. You can download this case study as a PDF.