Redundant Unified Communications solutions
Multiple redundant phone systems increase reliability to a maximum. The innovaphone PBX VoIP phone system has extremely robust hardware components and the Redundancy concept brings even more reliability. The innovaphone Redundancy concept is implemented so that any necessary switch-over to the backup system is realized extremely quickly, automatically and without data loss.
VoIP gateways as a stable basis of the Unified Communications solution
The innovaphone Unified Communications solution runs on the innovaphone VoIP gateways. The hardware environment is extremely stable with a low risk of failure since no moving parts such as hard disks or fans were used in the construction of the VoIP gateways. The software runs on an operating system developed specifically for this hardware, which is very lean and fast. There are no superfluous and unknown features which also brings maximum security for the software part of the VoIP gateway. The system is absolutely unattainable for viruses, worms and Trojans.
Local redundancy
In addition, reliability can be increased by a second, redundant operating system. In addition to the active innovaphone VoIP solution, a second system is set up, which can immediately take over the function of the original system in the case of a failure. The IP811 and IP6010 VoIP gateways are set up to allow loop-through to the ISDN trunk line. The redundant standby innovaphone PBX VoIP phone system runs on a gateway that is as similar as possible to the master PBX and is connected to the master gateway's routed trunk lines. A so-called power-off-loop ensures that the redundant innovaphone PBX VoIP phone system takes over the trunk line in case of failure - and also in case of complete failure of the master gateway.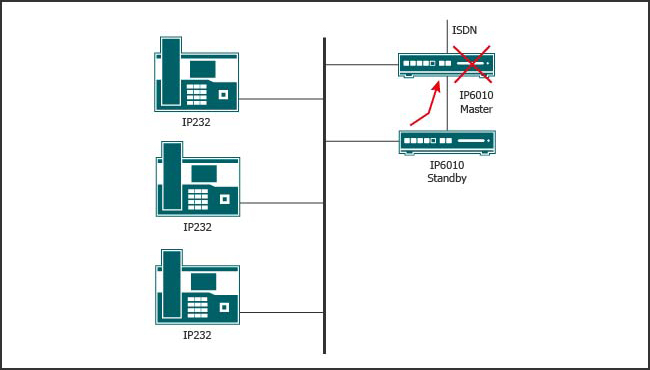 Local redundancy with loop-through trunk line from smooth takeover in the event the master PBX should fail.
The redundant innovaphone PBX VoIP phone system registers itself to the master and regularly checks its availability. All user data is replicated simultaneously via LDAP protocol. This ensures that both systems are always kept at the same status. The redundant innovaphone PBX VoIP phone system does not accept registrations for subscribers in the network as long as the active PBX is available and hence does not bind any licenses.
PBX entities at different branch offices replace each other automatically in case of failure without the need of running constant parallel backup systems.
Branch offices replace each other in case of failure - Unified Communications at any time
The special advantage of the innovaphone PBX VoIP phone system is that the redundant systems can be installed anywhere. The local master is at the same time the standby PBX for another branch. If a master fails, the standby system takes over and communication is maintained. The connection can even be diverted to another branch in case of failure of the connection to the local trunk line.
Unified Communications continues to be available for branch offices, even if the WAN / VPN connection fails.
Telephone and Unified Communications function in the case of WAN / VPN failure
The innovaphone Unified Communications solution is based on separate PBX installations for distributed locations. Failure of the WAN connection to the central telephone system or to other branches does not have an effect on one's own communication. The full range of Unified Communications functionalities is preserved, so that e.g. Presence, Video telephony, Chat and Fax can still be realised by the local innovaphone PBX VoIP phone system. One's own connection to the trunk line guarantees connections across the globe, also to the central system's IT department in order to report the failure of the WAN connection