| | |
| --- | --- |
| Newsticker | |
2016-07-27 | Newsticker
False error report by Windows Defender
Since this morning, Microsoft's security software Windows Defender, incorrectly reports a part of the code of the myPBX webapplication V12r1 as harmful. If your myPBX software does not work, you can fix it immediately by following the instructions in this article: http://forum.innovaphone.com

myPBX has been modified so that Windows Defender does not report an error. This change will be reflected in the upcoming 12r1 Service Release 1.

We have also reported this error to Microsoft, and it shouldn't occur anymore after the next update of their security software.

Update 28-07-2016: Microsoft immediately solved the problem yesterday with virus definition 1.225.2575.0
2016-07-11 | Newsticker
V12 release 1 now available!
You can now update your innovaphone PBX. Version 12r1 stands under the motto "New devices. New services. More Security." Look forward to conference calls with video and voice recognition, innovaphone solutions with WebRTC, the innovaphone widget from the myPBX Toolbox, the innovaphone "Call Me button", and much more. One important part of the V12 is the upgraded security concept with the innovaphone Session Border Controller and the innovaphone Reverse Proxy.
2016-07-08 | Newsticker
innovaphone PBX version 12 release is imminent!
V12 will be released on 11 July. Under the motto "New devices. New services. More Security." Look forward to conference calls with video and voice recognition, innovaphone solutions with WebRTC, the innovaphone widget from the myPBX Toolbox, the innovaphone "Call Me button", and much more. One important part of the V12 is the upgraded security concept with the innovaphone Session Border Controller and the innovaphone Reverse Proxy.
2016-05-25 | Newsticker
Touch panel units only work with the current firmware
Our IP232 (from HW1301) and the extension module IP2X2-X (from HW402) are now produced with a touch panel that only works with the current firmware (v12r1 / v11r2sr10 / v11r1eol). This information is also available in our Wiki.
2016-03-21 | Newsticker
CeBIT Retrospect
We had lots of visitors to our stand at this year's CeBIT. All our news from the world of professional corporate communications - especially the topics WebRTC, All IP, Anywhere Workplace, Cloud and Security were in our focus this year. We had a fabulous and successful week in Hanover with many interesting discussions. A heartfelt thank you goes to our visitors and we hope they enjoy looking at these photos that we brought home with us.
2016-03-15 | Newsticker
Available now: New Product Catalogue 2016/2017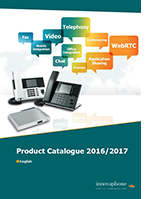 The new innovaphone Product Catalogue 2016/2017 is now available in English. It contains information about our current range of products including our new gateway series IPXX11, the all rounder phone IP112 as well as the topics Security, WebRTC, Anywhere Workplace and much more. You can download the PDF file here:
2016-02-15 | Newsticker
CeBIT 2016 - innovaphone puts six partners on its stand
innovaphone will again be hosting a stand at this year's CeBIT, in Hannover, Germany from March 14-18. We will be showing the innovations of our IP telephony and Unified Communications solution. Get to know our WebRTC applications, All IP, Anywhere Workplace and Security solutions, as well as the innovaphone Cloud. We are looking forward to your visit! You can find us at Hall 13, stand C20.
Click here to arrange a specific appointment with an innovaphone employee or one of our partners. Are you looking for an exhibition fair ticket? We will send you one when you request your appointment with us. Simply tick the box "Ticket wanted".
You can meet with the following partners at the innovaphone CeBIT stand:
Ascom
Ascom Wireless Solutions (www.ascom.com/ws) is a leading provider of communication solutions providing integrated workflow intelligence for Healthcare, Industry, Retail and other sectors. Approximately 100 000 systems are installed globally. The company creates value for customers by optimizing their mission-critical communication processes. The solutions are based on Cellular, VoWiFi, IP-DECT, Nurse call and Paging technologies. The company has subsidiaries in 13 countries and 1,200 employees. Based in Gothenburg, Sweden, Ascom Wireless Solutions is part of the Ascom Group, listed on the Swiss Stock Exchange (ASCN:SIX). The collaboration between Ascom and innovaphone has enabled new, ground-breaking products in the areas of IP DECT and Voice over WiFi to be developed.
byon
With the virtual telephone system, byon vTK, byon gmbh successfully offers cloud solutions on the basis of the innovaphone PBX. These can be seamlessly combined with the call management system byon vACD. In addition, the reseller and provider also offers call center technology, unified communications, service line numbers and video conference systems. As an innovaphone partner, byon develops high-quality industry solutions and site concepts in close dialogue with customers.
Jabra
Jabra audio solutions are the perfect addition to all innovaphone PBX devices. The professional headsets and hands-free solutions support staff to work more productively and help increase user acceptance and therefore ROI. To do this, Jabra is committed to the philosophy of the New Ways of Working: staff should fully exploit their potential and consciously choose what practices they prefer during the work process. Jabra's innovative products have been proven to contribute to a change in the world of work.
jtel
jtel has been a producer of web-based ContactCenter solutions since 1997. With complex call distribution, voice chat and conference systems, it offers the full suite of multichannel solutions via any media. jtel solutions are characterised by their flexibility, high integration level, high in-house maintenance capability, and extreme scalability. All solutions can be used both on-premises or cloud-based. Thanks to the direct interface to innovaphone, it is also possible to connect to the innovaphone PBX VoIP phone system. A wide range of projects have already been realised together.
estos
estos software products work perfectly with the innovaphone PBX. ProCall 5 Enterprise provides WebRTC-based audio/video communication, presence management and instant messaging. Federation enables ProCall Enterprise and the innovaphone PBX to link together, thus enabling companies to communicate securely also beyond their company boundaries.
A current overview of all products that estos will be showing at CeBIT 2016 as well as further information on estos can be found at: www.estos.de/cebit
TE-SYSTEMS
TE-SYSTEMS is ranked among the technology leaders in the area of VoIP. TE-SYSTEMS' software solution XCAPI has provided easy integration of CAPI-compatible voice and fax applications into innovaphone PBX for many years now. As experts in the area of VoIP protocols, TE-SYSTEMS has developed the software session boarder controller (SBC) anynode. With anynode as a Session Border Controller for SIP protocol adaptation, the remaining SIP communication obstacles can be overcome with ease. This is due to the wizards provided for installation and configuration. Making complexity easy, this is what TE-SYSTEMS is all about.
2016-01-27 | Newsticker
All language versions of the V12 Portfolio overview are now available
We have amended our portfolio overview. It now includes all the new gateways, the IP112 and the analogue IP29 adapter. The innovaphone V12 Portfolio overview gives you a quick overview of the innovaphone solution and the possible combinations of our products.
2015-12-17 | Newsticker
Successful innovaphone 2015 Dialogues!
We thank all our partners and distributors who once again contributed to exciting and informative Dialogues. This year our tour took us through ten European cities in seven countries with more than 550 participants and was a great success again!
The main component of the 2015 Dialogues was the presentation of the V12 highlights for our partners.
2015-12-16 | Newsticker
End of life of the VoIP gateways P3010, IP1060, IP0010, IP810, IP800, IP305, IP302 and IP28
A new gateway range will be launched with Version 12. The following VoIP gateways will be discontinued, but they can be ordered as usual until January 15, 2016. We will still take orders from January 15, 2016, but only while supplies last.
IP3010 (art. no. 01-03010-001)
IP1060 (art. no. 01-01060-001)
IP0010 (art. no. 01-00010-003)
IP810 (art. no. 01-00810-001)
IP800 (art. no. 01-00800-016)
IP305 (art. no. 01-00305-001)
IP302 (art. no. 01-00302-001)
IP28 (art. no. 01-00028-001)
IP28 Combi Pack (art. no. 88-00010-024)
2015-12-11 | Newsticker
Coming soon: New version of the innovaphone PBX!
The new software version V12 of the innovaphone PBX will soon be released and stands under the motto "New devices. New services. More Security."
New Devices:
New Services:
Video conferences
WebRTC with Audio, Video, and Application Sharing
myPBX Toolbox, including "Call me Button"
More Security:
More security for All IP and Anywhere Workplace scenarios
innovaphone Session Border Controller
innovaphone Reverse Proxy
Learn more about it in our new V12 Highlights brochure.
2015-11-19 | Newsticker
Everything at a glance – the innovaphone V11 Portfolio overview
The entire innovaphone product range can now be seen in one single document: the V11 Portfolio Overview. It gives you a quick overview of the innovaphone solution and possible combinations with the innovaphone products.
You can download the innovaphone V11 Portfolio Overview here. This PDF file has been created in DIN A1 size so that you can print it out yourself or have it printed. When you look at the V11 portfolio overview, we will be curious to see whether you find something new that you didn't know about before.
2015-09-23 | Newsticker
Now available: the new myPBX mobile flyer
myPBX mobile is the innovaphone solution for all mobile devices myPBX mobile allows you to integrate mobile devices in the innovaphone PBX e.g. iPhone, Windows phone, etc. myPBX mobile is a combination of innovaphone Mobility and the innovaphone Unified Communications client myPBX.

Read more about it in the myPBX mobile flyer.
2015-08-20 | Newsticker
IP1202 now also with 4 channels!
The IP1202 is an IP DECT gateway that extends the innovaphone PBX to cover DECT compatible subscribers. New: a much less expensive version is now available with 4 channels. The 4 channel version has the order number: 50-01202-002 and is expected to be available from October. Other than the limited channels, the IP1202/4 does not have any other limitations and is extremely well-priced at RRP 470.00€.
We are looking forward to your orders!
2015-08-12 | Newsticker
innovaphone at the 2015 World Rowing Cup II
This year's World Rowing Masters Regatta took place at Lago di Varese in the North of Italy from 18 – 21 June 2015. The athletes had to finish a 2 km route with the sun beating down.
The innovaphone solution ensured communication between staff, management and participants as well as the safety of the entire event site. We are very happy to accompany this important international event for the third time in a row.
Click here to read the case study about the World Rowing Masters Regatta 2013.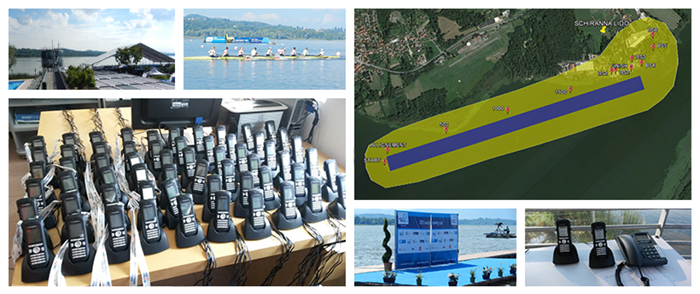 2015-08-04 | Newsticker
New flyer: Highlights of the innovaphone PBX
The innovaphone PBX is an appealing system with its wide range of functionalities, hardware platforms, end devices and software solutions, which can be customised on a modular basis. Thus, it is extremely versatile and blends elegantly into any individual communication solution. The highlights of the innovaphone PBX are rated differently for each situation. The main points are clearly presented in a one-page flyer.
In the download area you will find the relevant PDF file.